Let's meet Kris Stanley
Kris Stanley is a Talented TV personality and Performer who has appeared in over 50 TV shows and Commercials including Better Homes and Gardens, Fat Pizza, Housos, The Living Room and Bondi Vet.
Kris's love and admiration for Birds of all kinds has attracted a large audience to her show 'Kris's Feathered Friends' where she takes her hand reared birds into Nursing Home facilities to entertain the elderly.
Kris was kind enough to answer a few questions from her friends at Somerzby…
Hey Kris
Thanks so much for accepting our invitation to tell more about you and your pets, and what you do.
So let's get started…
Q. Did you have some experience in performing as a child?
As a kid I always wanted to act and make people laugh!!!!
And that's what I'm doing now! Everyone needs a good laugh everyday!
Q. Where did you get the idea to colour your birds?
When I started out with the Doves and Chickens they were all white – so I thought I colour my hair Pink – why can't I colour them!!!
Of course it had to be harmless to them, so after much research I found I could use food dye which is totally harmless and non toxic, the rest is history.
Just like magic I had coloured chickens and doves – and my audiences absolutely love it. 
Q. What's your favourite moment when you visit the nursing homes?
My favourite moment when I visit the Nursing Homes is when I see the big smiles on our old folks faces when they see birds – add to that lots of laughter and fun…..
and the fact my pink hair matches one of the chickens makes for a good giggle!!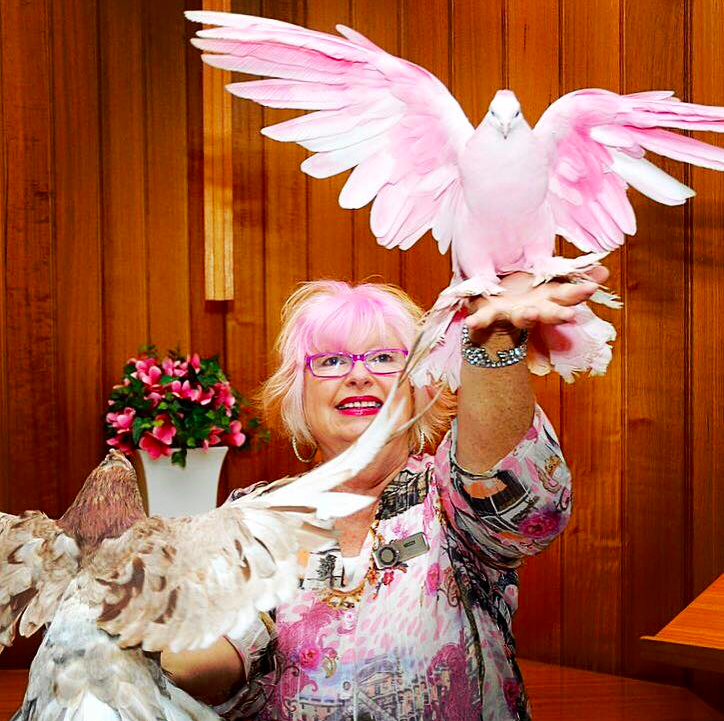 Q. You do a lot of TV, what's a funny memory that you're allowed to share?
I've have many funny moments on TV…..
I guess Dr Chris Brown won't mind me telling you that one day when we were filming The Living Room I had put Ruby my Indian Ringneck on his head…
suddenly Chris started nudging me – poor Ruby was trying to get off his head but his feet were stuck due to the hair spray in Chris's hair………..
Another hilarious moment was when I was on the Kerri Anne show and two of the doves flew onto her head….
suddenly they started to get very amorous on her head – I couldn't get them off quick enough.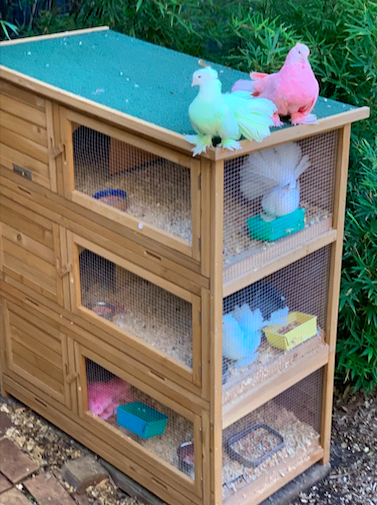 Q. Who's the person you've been most excited to meet?
I could toss a coin between Dr Harry and Dr Chris Brown…… love them both and adore working with them. 
Q. Who is your favourite performer or someone that has inspired you
My favourite performer is Joan Rivers…. the funniest women ever…… I miss her every day…
Q. How many birds do you have, what breeds are they and why you love working with them so much?
I have around 25 birds at the moment, they include beautiful Big Indian Fantails, Jacobin Pigeons, Silky Chickens, Alexandrine Parrots, Indian Ringneck Parrots, and a Macaw, and Sun Conures.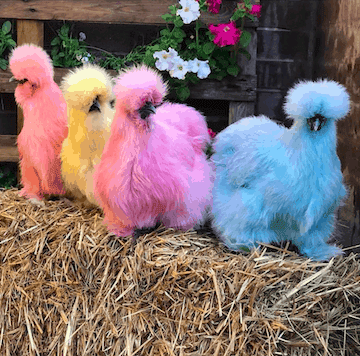 Q. Your favourite bird?
I've bred all my Fantails so that makes them mighty special. Some of the parrots are rescues……
and my beautiful Indian Ringneck has just turned 20 years old….. I hand reared him from 64 days of age. 
Everyone of them has a place in my heart. 
Q. What other pets do you have, and are they all part of the show?
Other pets we have are two beautiful cats…… both rescues…… one of the cats Tilly lets the birds walk all over her. 
Q. What's coming up for Kris's Feathered Friends?
Every day is a new adventure for Kris's Feathered Friends…….
next week we're doing a photo shoot for Peter Alexander with one of my Doves……
we have some TV coming up but it's a secret….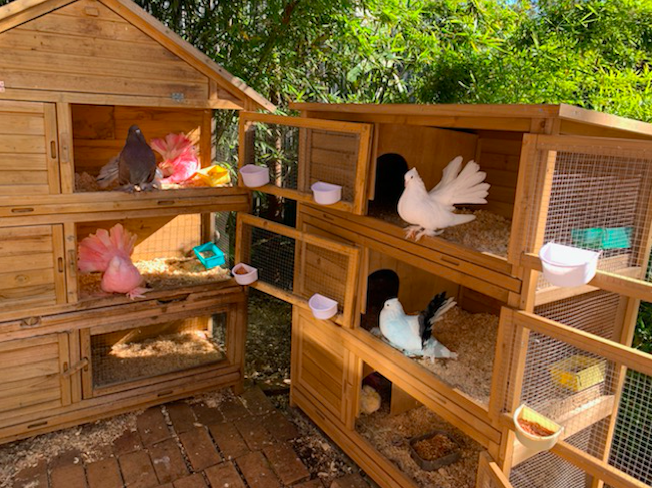 Q. How can people contact you?
I can be contacted on:
Thanks Somerzby, for allowing me to share,
Krissy