Large Dog Enclosures – Indoor / Outdoor
Did you know that 39% of Australian households have a dog? That's around 4.2 million dogs or 19 dogs for every 100 people according to the RSPCA.
Yes, we love our dogs and we like to think of our canine companions as a loved friend, a part of the family.
But dogs need a number of things to really feel at home with you. Yes, there are the obvious things like food, shelter, and companionship but they also need to feel safe.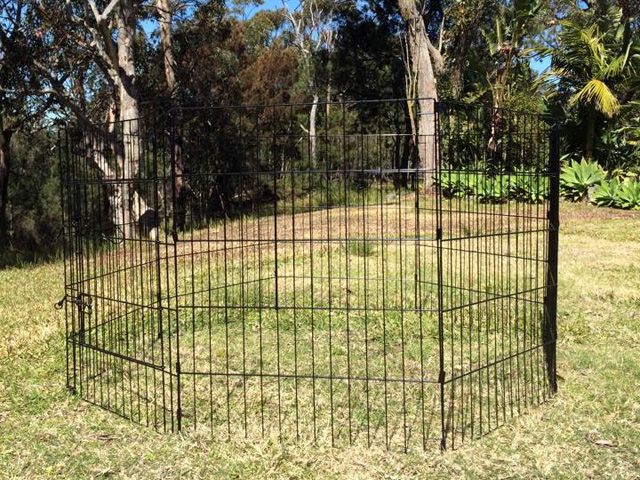 Large Dog Playpen – The Arena
The Somerzby Dog and Puppy playpen is lightweight and easy to assemble, it features 8 panels and easily folds down for compact storage.
$69.00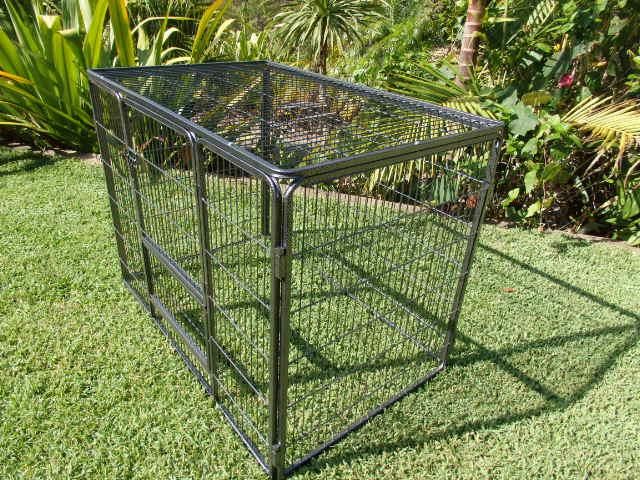 XL Premium Enclosure with Roof
The Somerzby 36″, 4 Panel Premium portable enclosure is sturdy and easy to assemble. This pet run/playpen is suitable for Dogs, Puppies, Kittens, Rabbits and guinea pigs etc.
$215.00
A SIZE FOR EVERY OCCASION
Just like us humans, our dogs need a place they can call their own, a space where they can chill out and watch the grass grow or engage in some focused tasty treat demolition.
That's where a Somerzby large dog enclosure or playpen is the perfect solution.
Dog enclosures are ideal for:
Small, medium or large dogs
Training purposes
Creating a safe dog run outside so your dogs can play without supervision
Time out for when your dog needs a break from visitors
Shelter for dogs that need to be temporarily isolated or have their range of movement restricted (e.g. after surgery)
What Are The Benefits Of A Somerzby Dog Enclosure?
The Somerzby dog enclosures are designed with your dog's safety and welfare and your convenience in mind.
Somerzby stock a range of metal pet playpens so that you can find one that is suitable for almost any type and size dog.
Plus, the Somerzby dog runs can be easily dismantled and folded away for storage or for relocating to a different area.
The benefits of a Somerzby dog run enclosure include:
Ability to expand the run by adding additional runs or panels
Run can incorporate your existing kennel for a completely enclosed safe home for your dog
Lockable doors for security
Heavy duty metal construction to prevent even the most determined escape attempts
BUY DOG ENCLOSURES
WHAT OUR CUSTOMERS SAY
We don't like to brag, but we don't mind when our customers do. Here are some of the testimonials we have received from our wonderful pet owners.
SO HELPFUL
Just purchased a 48 inch dog cage and got a pleasant shock at the quality and price and the ease it was to put it together.
Kimberley my sales assistant was so helpful and friendly I will recommend Somerzby to all my family and friends.
SHE IS NOW SAFE!
Thanks Somerzby for supplying my kitty with the goods!
She loves it and I love knowing she is now safe when I am not home
yOU GUYS ARE AWESOME
Just wanna say you guys are awesome! Products are amazing and you's are always so quick to dispatch orders too.
I ordered a pet crate on Wednesday afternoon and recieved it first thing this morning, so fast, you couldn't get a letter from the next town over that fast!!!
Customer Support
At Somerzby, we take customer service very seriously, so don't hesitate to call us or e-mail us with any questions, or to place an order.
TRUSTED SUPPLIER
Somerzby Pet Products - selling online and direct to the public since 2013, with over 50,000 products sold Australia wide.
ORDER TRACKING
Somerzby uses the most reputable carriers in Australia giving customers peace of mind but also allows for order tracking keeping customers up to date.
ALWAYS IN STOCK
Here at Somerzby, we have an extensive range of products as well as a massive warehouse to make sure we've always got what your after in stock and ready to ship.
AUSTRALIAN OWNED
Somerzby are Australian Owned & Operated. We have been operating for over 7 years, and have always been Australian Owned.
EASY TO ASSEMBLE
At Somerzby we pride ourself in making the whole experience with us as carefree as possible. Our products are delivered in flat packages ready to assemble, all you need is a few basic tools.
PET CARE INFO
At Somerzby, We aim to help pet owners look after and properly care for their pets to ensure a happy and healthy relationship. We have a long list of guides answering any of your questions.