Somerzby CAT BEDS
Whether you are after a bed for travel or everyday use, your cats need a really soft, comfy place to rest.
That's why Somerzby is offering an exciting range of premium cat beds. If you are browsing to buy a soft and fluffy cat bed for your little buddy, visit Somerzby and contact our friendly customer support team if you've got any questions.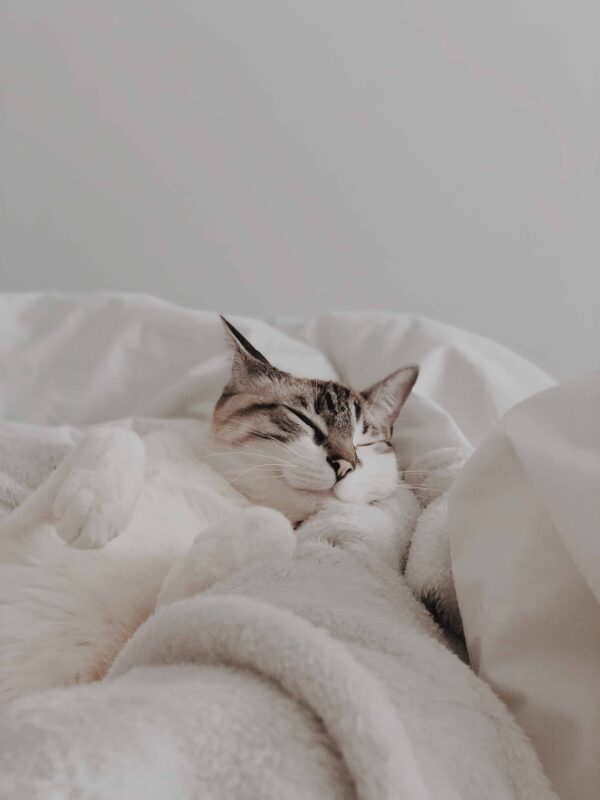 What is the best cat bed?
To decide which is the best bed for your cat, you'll want to think about your cat's nature and behaviours.
Your feline has a unique personality (in case you hadn't already noticed) and your cat's nature will give you the clues you need to choose the right bed for your feline.
Ask yourself the following questions:
Does my cat like to stretch?
Is she old and getting a little stiff in the joints?
Does she prefer to sleep in warm sunny spots?
Is a tight curled up ball my cat's usual sleeping pattern?
Does your cat like to hide away?
If your cat tends to stretch a lot when she's sleeping then you want to choose a larger sleeping bed. You might also want to choose a bed with lower sides that won't impede your cat's stretches.
Old cats that show some stiffness in the joints will really love a bed with a heating pad. Again, lower sides will allow for easier access to the bed for your aging cat.
Cats that love toasty warm sleeping spots will love a window hammock or a heated pad whereas those that like to curl up in a tight ball may love a smaller round bed with high sides that keep her warm.
Cats that like to hide away (perfectly natural behaviour) will love the cave or igloo type cat beds.
You'll also want to look for features such as removable cushions for cleaning and easy to wash fabrics. Somerzby has the widest range and some of the best products in these categories.
What are the most popular cat beds?
Cat igloo beds come in a range of shapes from a tepee style to a tunnel or in a range of novelty shapes
Cave beds are typically round but you can also go for a cube, an elevated pod or even a donut shape
Heated cat beds with an in-built heating pad are the perfect gift for your aging cat's aching joints or any cat that loves warmth
Window beds, like a room with a view available for sun-worshippers – perfect for your most worshipful furry feline
Cat baskets include high sides to help your kitty feel extra cosy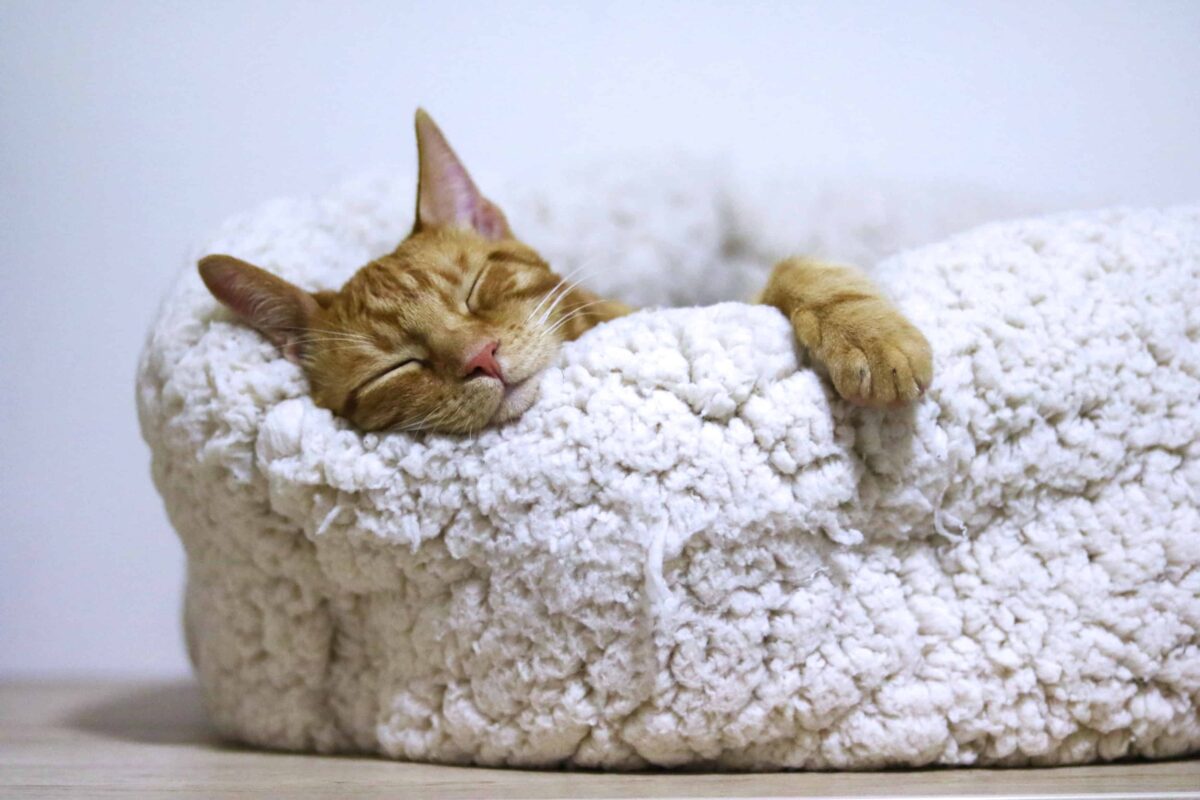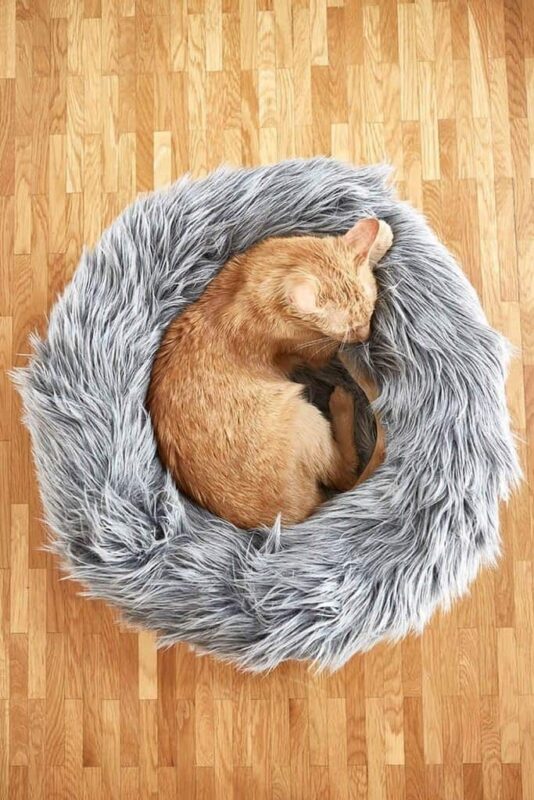 Why won't my cat sleep in her bed?
It may seem like your pet cat is just being fussy when they won't sleep in the beautiful new cat bed you've just proudly given them but there are good cat reasons why they might prefer their old cardboard box or the top of the fridge.
Many of these reasons go way back into cat evolution and are linked to security, warmth, and even avoiding parasites.
Fortunately, some tips you can try to get your feline to fall in love with their new bed.
How to get my cat used to his bed
Start by choosing the right bed for your cat—see above.
You'll increase your chances of success by placing the new bed where your cat usually loves to sleep.
So, if your cat is a sun-worshipper put the new bed in the sunniest spot in the house. If your cat adores heights place the new bed on the fridge or some other favoured high point.
Avoid placing the new cat bed in areas where there is high traffic. Most cats like to sleep in quiet areas away from running toddlers, dogs or other noisy activities.
Next, make the new bed really appealing. Place some of your cat's favourite treats and toys in the bed – catnip is often a sure-fire winner.
Cats feel comforted by familiar scents including its owner's scent so place your cat's favourite blanket or an old shirt of yours in the new bed.
Lastly, discourage your cat from sleeping in areas you don't want them to by spraying citrus oils (lemon or orange) or by placing a physical barrier such as closing the door to prevent access to those areas.
Why do cats steal dog beds?
Quite simply because cats can. Felines see everybody and everything in your house as their property; get used to it.
It's probably something to do with enjoying a familiar scent, establishing territory or just your feline being particularly 'catty'.
How to stop your cat from peeing in the bed
Cats usually pee in inappropriate places as a result of anxiety or as a territorial marker.
Cat owners first need to determine if there has been a recent change that has upset your cat's world, such as the arrival of a new cat or other pet. The death of one of your other pets may also trigger this behaviour.
Start by removing the cause. You need to introduce new pets gradually or remove other up setting changes.
You may also need to prevent access to the area that your cat is urinating in and follow up with food rewards for when your cat uses the cat litter box.
Try putting the cat's food or water bowls in that area; cats usually won't urinate in feeding areas.
You can also try placing aluminium foil in those areas. This may discourage the cat from using this area. If all else fails your vet may prescriber anti-anxiety medication.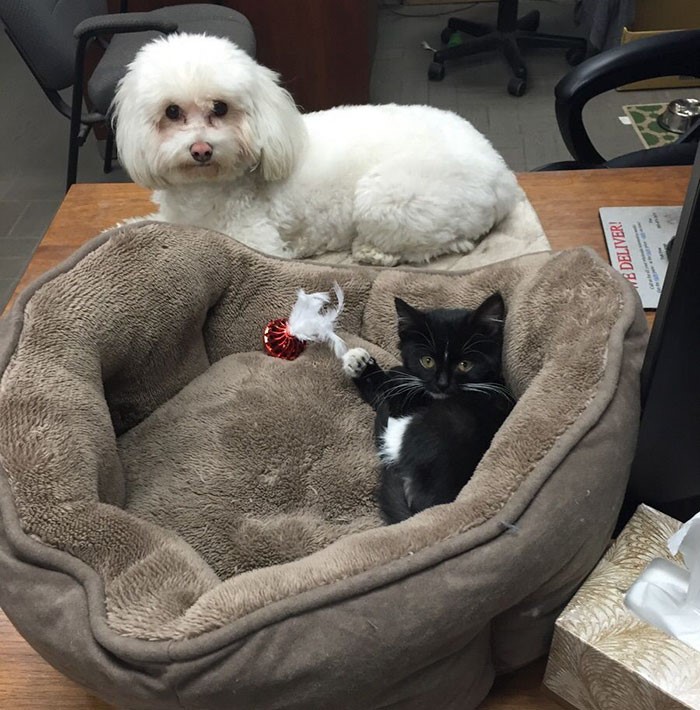 Where to buy in Australia
Somerzby has one of the widest and most enticing selection of cat beds in Australia and our customer care is second to none.
Somerzby cat beds feature:
The Somerzby range of cat beds are made using premium quality materials and construction at an easily affordable price.
The Somerzby range offer these truly catatonic features:
Non-slip base–reduces chances of injury especially for elderly cats
High cushioned sides–gives your cat a real sense of safety & security
Range of sizes to suit all cat varieties and preferences
Fluffy materials for warmth and snuggly comfort
Highly wear resistant materials for durability
Easy to clean synthetic fabrics
Somerzby Pet Products – with more than 100,000 products sold Australia wide since 2013, is renowned for superior product quality, and service.
We pride ourselves on rapid shipping and safe secure shopping cart and delivery using reputable carriers for all our products.
WHAT OUR CUSTOMERS SAY
We don't like to brag, but we don't mind when our customers do. Here are some of the testimonials we have received from our wonderful pet owners.
SO HELPFUL
Just purchased a 48 inch dog cage and got a pleasant shock at the quality and price and the ease it was to put it together.
Kimberley my sales assistant was so helpful and friendly I will recommend Somerzby to all my family and friends.
SHE IS NOW SAFE!
Thanks Somerzby for supplying my kitty with the goods!
She loves it and I love knowing she is now safe when I am not home
yOU GUYS ARE AWESOME
Just wanna say you guys are awesome! Products are amazing and you's are always so quick to dispatch orders too.
I ordered a pet crate on Wednesday afternoon and recieved it first thing this morning, so fast, you couldn't get a letter from the next town over that fast!!!
Customer Support
At Somerzby, we take customer service very seriously, so don't hesitate to call us or e-mail us with any questions, or to place an order.
TRUSTED SUPPLIER
Somerzby Pet Products - selling online and direct to the public since 2013, with over 50,000 products sold Australia wide.
ORDER TRACKING
Somerzby uses the most reputable carriers in Australia giving customers peace of mind but also allows for order tracking keeping customers up to date.
ALWAYS IN STOCK
Here at Somerzby, we have an extensive range of products as well as a massive warehouse to make sure we've always got what your after in stock and ready to ship.
AUSTRALIAN OWNED
Somerzby are Australian Owned & Operated. We have been operating for over 7 years, and have always been Australian Owned.
EASY TO ASSEMBLE
At Somerzby we pride ourself in making the whole experience with us as carefree as possible. Our products are delivered in flat packages ready to assemble, all you need is a few basic tools.
PET CARE INFO
At Somerzby, We aim to help pet owners look after and properly care for their pets to ensure a happy and healthy relationship. We have a long list of guides answering any of your questions.