Ferrets are extremely playful, intelligent, and highly active pets.
Their cute faces and furry bodies along with their mischievous character will provide hours of delight and companionship for both Adults and Children.
Ferrets are entirely domesticated versions of the wild polecat and are suitable as pets even in restricted spaces such as apartments or units.
They are social animals which love and need human companionship. They are also very intelligent and will respond to their name and can even learn tricks.
Because of their social nature it is a smart idea to keep more than one ferret especially if you cannot always devote 60 minutes or more each day to playing and interacting with your ferret.
Due to their intelligence nature and sleek bodies ferrets are known for being brilliant escape artists who can find their way through the most small holes.
This is why you need to invest in a high quality ferret cage from Somerzby.
What Kind of Cage Do your Ferrets Need ?
Ferrets need to be housed in escape proof cages and any free-range areas you allow them to access must also be escape-proofed due to their exploring nature.
This is for their protection as well as your peace of mind.
Remember also that guinea pigs, mice, rats, reptiles, and birds are their natural prey so if you do have these pets as well they need to be kept separate.
Ferrets are highly active in short bursts (similar to a small dog). You should choose a cage that is large enough to allow your ferrets to run and play and get the exercise they need.
Qualities of a Great Ferret Cage ?
Along with essential features like Safety Ramps, Feeding Bowls and a Pullout Cleaning Tray you should also make sure the Cage has the Following Qualities:
Size – spacious enough for their exercise needs
Escape proof – ferrets are renowned for their ability to squeeze through tiny gaps
Easy-to-clean – ferrets can be toilet trained but you will still need to clean out their sleeping areas and litter boxes
Dark, safe sleeping areas – a ferret's typical den in the wild is usually a dark safe hole so look to recreate this with a cozy sleeping box
Weatherproof – if you are keeping your ferrets outside you need to know that they are protected from the weather with solid weatherproof design and construction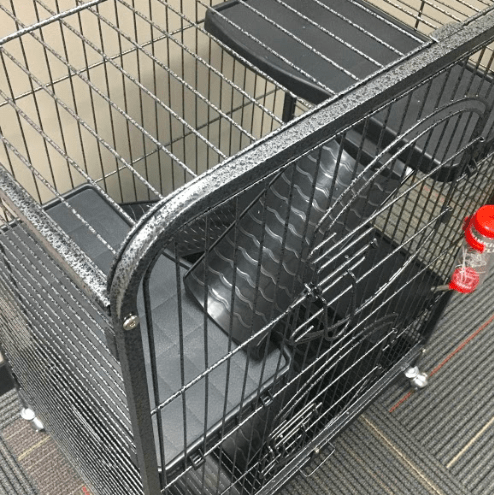 Cooper Ferret Cage
This 4 storey ferret cage is perfect for 1 ferret or a small pet. The cage comes complete with 4 levels with the base, safety ramps, a feeding bowl, a drinking bottle, pullout plastic tray for easy cleaning and wheels for easy mobility.
The Cooper ferret cage includes 2 main doors for easy cleaning and when closed are very secure keeping your pets safe and secure.
$115.00
Lucy Ferret Cage
The Lucy Ferret Cage features 6 levels including the bottom, allowing your ferrets to run around as much as they want.
The safe and secure cage also includes 3 strong, escape-proof doors, a feeding bowl, a 250ml water bottle and a pullout tray for easy cleaning.
This strong ferret cage will keep your 2-3 ferrets safe and secure inside while providing food, water and space to run around.
$165.00
Lexi Portable Ferret Cage
This spacious and strong cage gives your furry friends plenty of room to play and rest while feeling safe and secure.
Sturdy with a grey Hammerite coated steel frame, be assured that this will be a long-lasting home for your little pets.
The durable plastic tray has high sides to avoid mess being spilled out. It is easy to slide out and can be fully removed to make cleaning a breeze!
$135.00
Tucker Ferret Cage
The Tucker Ferret Cage is a premium built enclosure perfect for 3-4 ferrets or small pets as it's very spacious and includes 3 platforms and 3 ramps so your pets can run around and have fun.
The cage has 2 large front opening doors and a latch on top to allow easy cleaning and feeding to your pets, along with many other features that your ferrets will love.
$189.00
WHAT OUR CUSTOMERS SAY
We don't like to brag, but we don't mind when our customers do. Here are some of the testimonials we have received from our wonderful pet owners.
SO HELPFUL
Just purchased a 48 inch dog cage and got a pleasant shock at the quality and price and the ease it was to put it together.
Kimberley my sales assistant was so helpful and friendly I will recommend Somerzby to all my family and friends.
SHE IS NOW SAFE!
Thanks Somerzby for supplying my kitty with the goods!
She loves it and I love knowing she is now safe when I am not home
yOU GUYS ARE AWESOME
Just wanna say you guys are awesome! Products are amazing and you's are always so quick to dispatch orders too.
I ordered a pet crate on Wednesday afternoon and recieved it first thing this morning, so fast, you couldn't get a letter from the next town over that fast!!!
Customer Support
At Somerzby, we take customer service very seriously, so don't hesitate to call us or e-mail us with any questions, or to place an order.
TRUSTED SUPPLIER
Somerzby Pet Products - selling online and direct to the public since 2013, with over 50,000 products sold Australia wide.
ORDER TRACKING
Somerzby uses the most reputable carriers in Australia giving customers peace of mind but also allows for order tracking keeping customers up to date.
ALWAYS IN STOCK
Here at Somerzby, we have an extensive range of products as well as a massive warehouse to make sure we've always got what your after in stock and ready to ship.
AUSTRALIAN OWNED
Somerzby are Australian Owned & Operated. We have been operating for over 7 years, and have always been Australian Owned.
EASY TO ASSEMBLE
At Somerzby we pride ourself in making the whole experience with us as carefree as possible. Our products are delivered in flat packages ready to assemble, all you need is a few basic tools.
PET CARE INFO
At Somerzby, We aim to help pet owners look after and properly care for their pets to ensure a happy and healthy relationship. We have a long list of guides answering any of your questions.