Somerzby Chicken Tractor
We all know that chooks love to scratch and peck in the grass and it doesn't take long before they need to move on to some fresh grass.
So what is a Chicken Tractor?
A chicken tractor, alternatively known as an ark, is a mobile chicken coop. For most chicken tractors, the addition of wheels is the only big difference from your average chicken coop. 
What is the purpose of a chicken tractor?
The main purpose of a chicken tractor is to keep your chickens and their eggs safe from the elements and predators such as other birds or rodents, whilst also providing the chickens with the freedom to roam and experience a free-range lifestyle.
Many people use tractors as alternatives to freestanding coops or chicken runs as they provide you with flexibility and mobility, however, partnering a tractor with a coop or run is also popular as it provides your chickens with the opportunity to experience a free range lifestyle, whilst also having a secure base.
This is just one benefit of owning a chicken tractor.
Mobile Holly Chicken Coop
This tractor-style coop can house up to 3 chickens. It is easily moved throughout your yard using the attached handle, which allows your chooks to access fresh food and prevents overgrazing.
The Holly Chicken Tractor features a sheltered nesting box and opens from both ends and at the side for ease of cleaning.
buy holly chicken tractor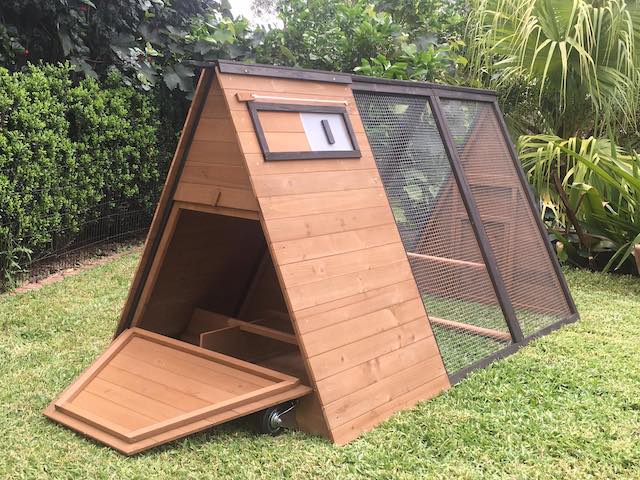 Saves Time & Money
Portable coops are easy to move to dry ground when it is raining. No need to change your chooks bedding every time it's raining.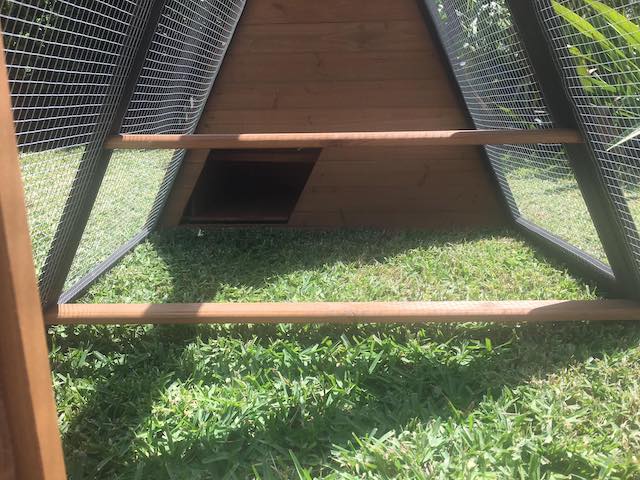 Run Space
Chickens require a minimum of 15 square feet to roam, the Somerzby tractor will accomodate 3 chooks.
WHY ARE CHICKEN TRACTORS SO GOOD?
Additionally, there are numerous further features and benefits of the tractor, the most obvious of which is its portable nature.
Moving the tractor and, by extension, your chickens to a new area every day or two allows you to provide your birds with fresh, quality earth to graze and explore. 
Monitoring the quality of this land is a step toward reducing the risk of your birds developing illnesses such as coccidiosis, which can come on as a consequence of eating parasites.
KEEPING YOUR CHOOKS HEALTHY
Not only does the frequent change of scenery keep the birds interested and inquisitive about their surroundings, it will also help distribute the chicken's waste so that it doesn't gather in any one place.
Instead it can potentially fertilize the whole garden. The chooks will also help keep the soil healthy by scratching and turning it, as well as by eating common insects that cause trouble for a lot of garden plants.  
A further benefit of a portable coop is the ability to move your tractor to dry ground when it is raining.This saves you from having to change and clean your chooks bedding every time it's raining.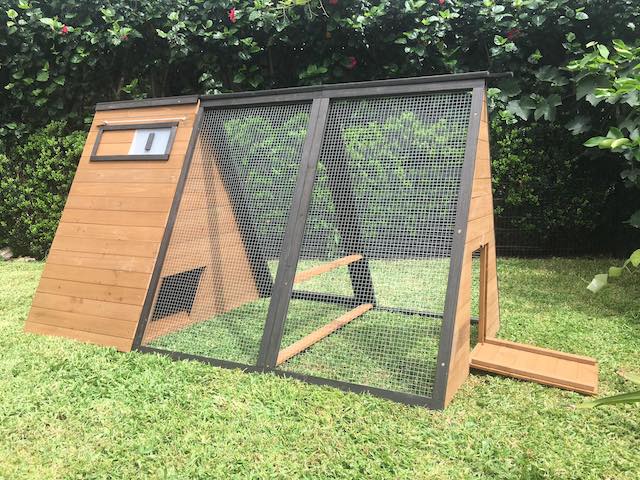 What size tractor is best?
The best way to determine what size tractor is best for you is to find out how much space your chickens actually need. Here is a quick, general guide on how much space your chickens should have in order to be happy and healthy:
Run Space: Chickens require a minimum of 15 square feet to roam, the Somerzby tractor will accomodate 3 chooks. 
If you have more than 3 chickens you may want to consider a chicken run which can be used in addition to the chicken tractor or on it's own.
Letting your chooks out to range freely on a regular basis is encouraged, having more space for your chickens to roam means that there is less chance of them becoming restless or aggressive if they are not let out frequently.
Perch Space: 25.4cms or 10 inches is recommended for perching space. 
Keep in mind that chickens like to huddle together for warmth during the night and the cooler seasons, and so you may be tempted to provide them with smaller perching spaces…
WHAT BREED OF CHICKENS?
It is important to keep in mind that these figures are just guidelines and you may have to do some research to find out how much room is ideal for your individual chickens needs, as there are numerous factors which come in to play.
One such factor is the actual size and breed of your chickens.
For example, if you were looking to house a Jersey Giant, the largest breed of chicken at 4 kilos, then you will be needing a much bigger tractor than if you were housing a Dutch, which weighs just 1 pound.
Different breeds also have different temperaments and each chicken has its own personality. Some may more comfortable will sharing their personal space than others.
Another factor to consider is what you will be using your tractor for.
Will it be purely for nesting and roosting?
Will it also be their feeding area?
If you were to keep the chickens food and water inside the tractor, then you will need to allow for that space and ensure the chickens aren't crowded as this often causes distress and aggression.
Now that you know the healthy amount of space for your chooks, you can decide which tractor is best for the number of chickens you have. 
The Somerzby chicken tractor is two meters long by one meter high, with most of this space being "run space".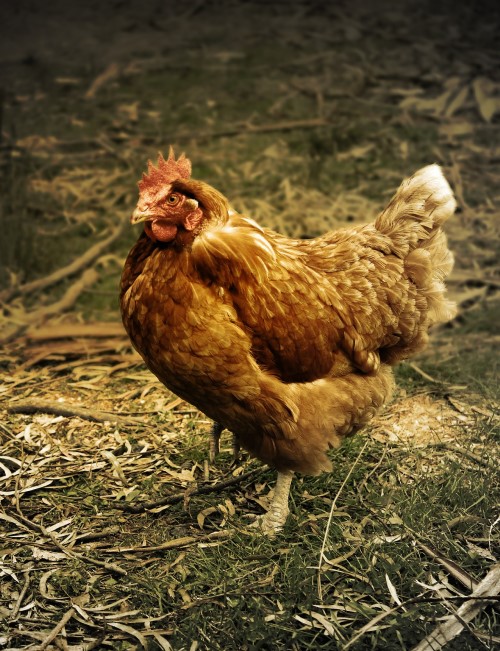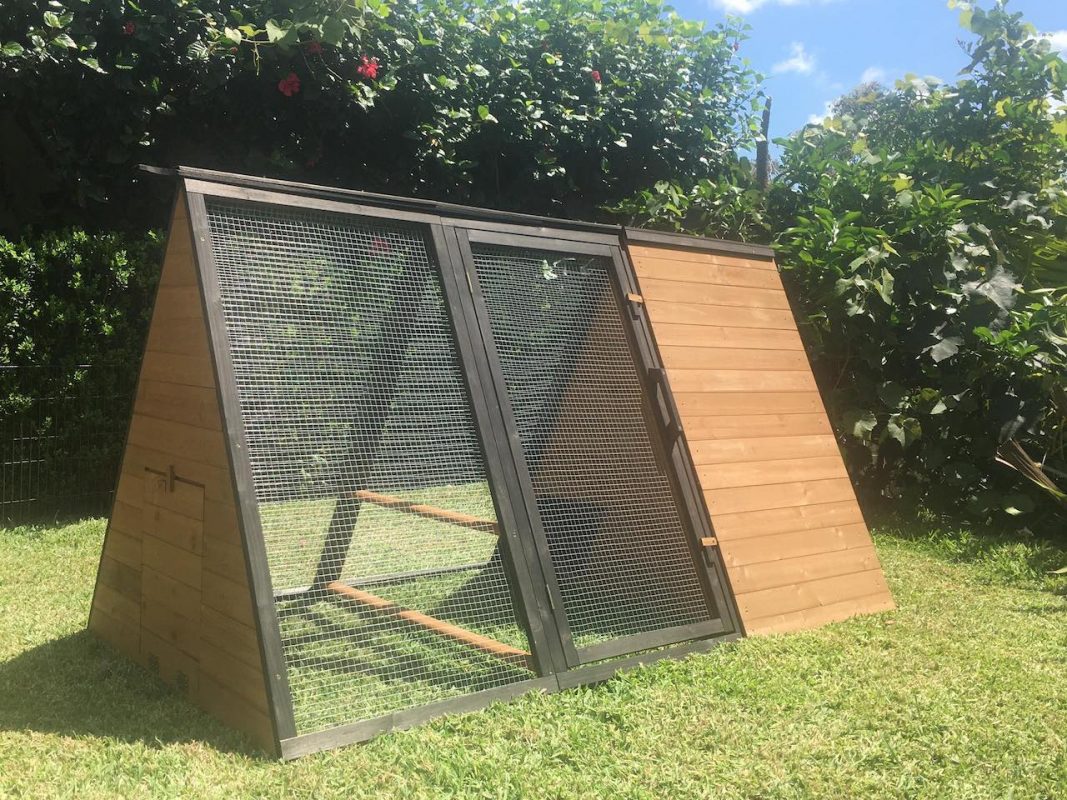 HOW TO MOVE A TRACTOR?
Moving a chicken tractor is incredibly simple when done correctly.
The first step is to relocate your chickens as they could be jostled around inside the tractor depending on how far you are moving it.
It is ideal to temporary relocate your chickens to a room with a smooth surface such as tiles to help with the clean up of droppings, or if you are confident you will not accidently run into your chooks, you can let them roam freely while you relocate their tractor.
Secondly, make sure you have cleared a path from the tractors current location to your new one so you don't accidentally run into any obstacles.
Finally, it's time to actually move the tractor. Just like with lifting any heavy object, it is best to maintain good posture whilst lifting a tractor. This means bending your knees, keeping your back straight and your head up.
Once you are in the right position, grab hold of the handles that should be present at one side of your tractor and use your legs to push off and lift the tractor up off the ground.
Once you are confident the weight of the tractor is manageable, you can slowly move backwards and guide your tractor to its new location. It is important to bend your knees as you lower the tractor to the ground.
SHOULD I BUY A CHICKEN TRACTOR?
If you have a smaller number of chickens with a good size yard then it's worth considering purchasing the chicken tractor as you can move the chickens on a daily basis, think of it as a mobile chicken coop.
It's important to buy a chicken tractor that is easy to move, you will be moving it every 1 – 2 days, which is why the Somerzby tractor is a perfect option.
One of the key features is that it is very easy to move, it has large wheels and an easy to grip handle at each end.
A chicken run or coop is usually setup in the yard where there is an open area for the chooks to range freely. It's a more permanent structure and is more difficult to move.
As one of Australia's leading pet products company, Somerzby offers a great range of chicken tractors and runs, with something to suit just about anyone no matter what your budget.
BUY CHICKEN TRACTOR HERE
WHAT OUR CUSTOMERS SAY
We don't like to brag, but we don't mind when our customers do. Here are some of the testimonials we have received from our wonderful pet owners.
SO HELPFUL
Just purchased a 48 inch dog cage and got a pleasant shock at the quality and price and the ease it was to put it together.
Kimberley my sales assistant was so helpful and friendly I will recommend Somerzby to all my family and friends.
SHE IS NOW SAFE!
Thanks Somerzby for supplying my kitty with the goods!
She loves it and I love knowing she is now safe when I am not home
yOU GUYS ARE AWESOME
Just wanna say you guys are awesome! Products are amazing and you's are always so quick to dispatch orders too.
I ordered a pet crate on Wednesday afternoon and recieved it first thing this morning, so fast, you couldn't get a letter from the next town over that fast!!!
Customer Support
At Somerzby, we take customer service very seriously, so don't hesitate to call us or e-mail us with any questions, or to place an order.
TRUSTED SUPPLIER
Somerzby Pet Products - selling online and direct to the public since 2013, with over 50,000 products sold Australia wide.
ORDER TRACKING
Somerzby uses the most reputable carriers in Australia giving customers peace of mind but also allows for order tracking keeping customers up to date.
ALWAYS IN STOCK
Here at Somerzby, we have an extensive range of products as well as a massive warehouse to make sure we've always got what your after in stock and ready to ship.
AUSTRALIAN OWNED
Somerzby are Australian Owned & Operated. We have been operating for over 7 years, and have always been Australian Owned.
EASY TO ASSEMBLE
At Somerzby we pride ourself in making the whole experience with us as carefree as possible. Our products are delivered in flat packages ready to assemble, all you need is a few basic tools.
PET CARE INFO
At Somerzby, We aim to help pet owners look after and properly care for their pets to ensure a happy and healthy relationship. We have a long list of guides answering any of your questions.