Pet Enclosures
Some 63% of Australian households have a pet and that means there are an estimated 25 million pets in Australia (according to the RSPCA).
Fortunately, most of us recognise the need for suitable and secure housing for our pets.
We need to keep our pets safe from predators, road hazards, getting lost or stolen as well as providing shelter from the weather.
It's important to think about your pet's needs and your own requirements when you choose a pet enclosure. Ask yourself:
Is the enclosure the right size—does it have adequate sleeping/nesting space?
Will the mesh keep predators out and prevent my pets from escaping?
Is the mesh mosquito proof?
Is it big enough to give them adequate play and exercise freedom?
Can I expand the enclosure as my animal family grows?
Does it protect them from the weather?
Does it need to be portable?
Is it for inside or outside use?
You'll also need to think about your own lifestyle too.
You might need a portable indoor enclosure for a young puppy or cat as well as an outdoor enclosure.
This could be especially important if you're out at work all day and want to allow your pet to be safe outside.
Also take a moment to think about how easy it will be for you to clean inside the enclosure.
Look for features such as easy to remove metal trays and standing height access.
Somerzby love your animals and so we have developed a wide range of pet enclosures with all these questions in mind.
Take the time to choose the right pet enclosure for your pets.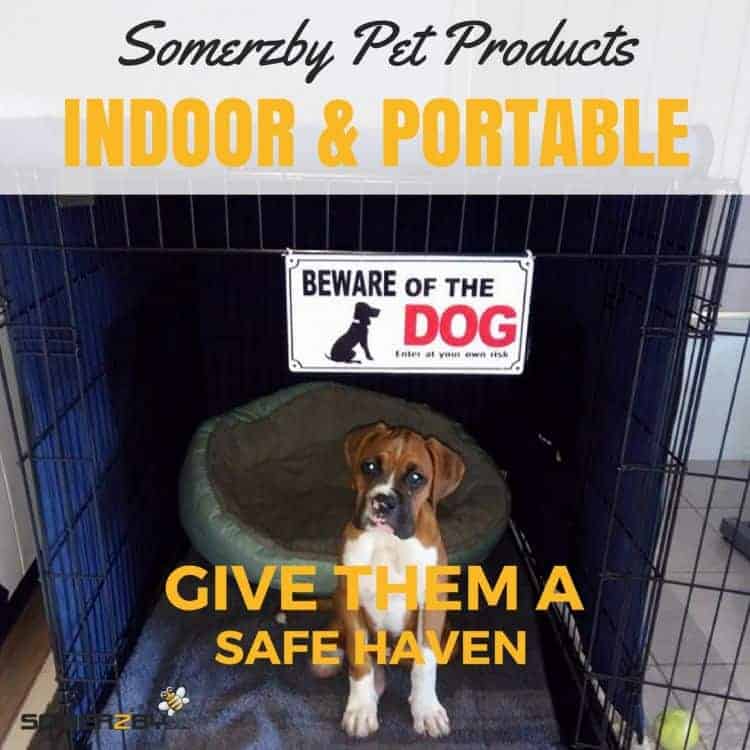 Indoor and Portable Pet Enclosures
Indoor enclosures are a great way to keep young puppies and kittens safe from harm.
An indoor pet enclosure can be a safe haven for your animal babies when they're tired from exploring their little world.
Not to mention they also serve to protect your valuable furnishings from their more destructive tendencies when you're away from the house.
Somerzby indoor pet enclosures are designed around two important aspects:
Your pet's safety and welfare
Portability and ease of installation
Somerzby stock a range of metal pet playpens and crates so that you can find one that is suitable for almost any type and size dog or kitten.
The 8 panel playpen allows for a range of shaped enclosures – octagon, square or rectangular.
Plus, the Somerzby metal panel enclosures are easy to set up and can be easily dismantled and folded away for storage or for relocating to a different area.
Check out the range of indoor and portable enclosures here.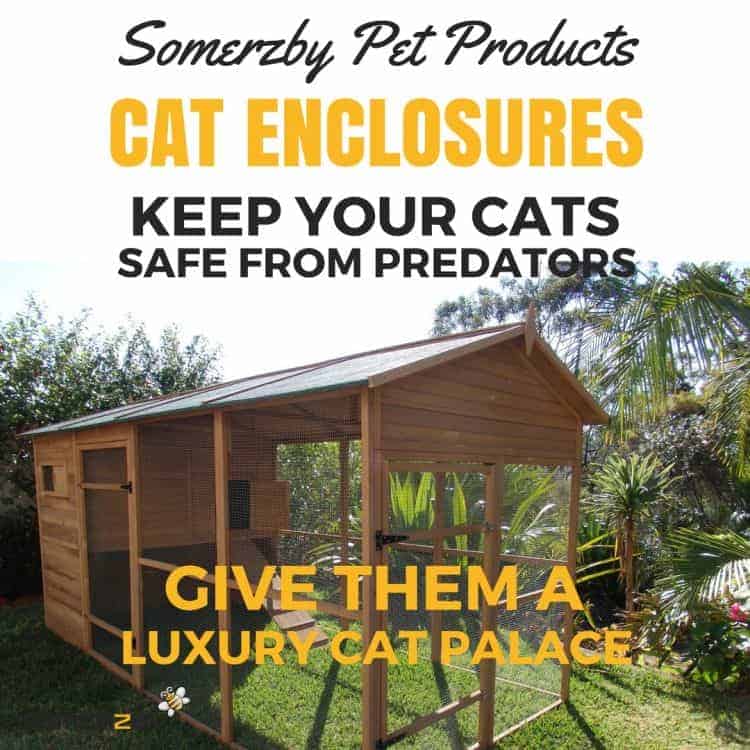 Cat Enclosures
Cats, we love 'em and can't get enough of those fluffy bundles of joy but they can be little divas and cause mayhem.
Somerzby have a wide range of cat enclosures for outdoor use.
They're designed to keep your cats safe from predators, road hazards, or escaping into the wild blue yonder.
Cat enclosures also do a great job of stopping your cat killing native birds and animals.
Check out these great cat palaces:
Catio for a luxury cat palace
Manor large cat enclosure
Somerzby cat house
Homestead extra large cat house
Super deluxe mansion
Somerzby Estate
Somerzby mansion
Our cat enclosures feature off-the-ground sleeping areas, waterproof roofs, snake and predator proof galvanised mesh, and easy access.
They can also easily be expanded with additional runs so your cats can freely express their inner diva.
See our range of outdoor cat enclosures
Guinea Pig Enclosures
Guinea pigs are one of the perennial favourite pets.
Keep your Guinea pigs safe while they enjoy the fresh green grass of home. Good sized enclosures and easy lockable access allow your kids to play with their Guinea pig friends and also facilitate cleaning.
Models suitable for Guinea pigs include:
Villa + (Run)
Cottage
Bungalow
Lodge
Chalet
Mansion
Check that you can move your Guinea pig enclosure easily because they will need to find fresh grass regularly.
See our full range of Guinea Pig enclosures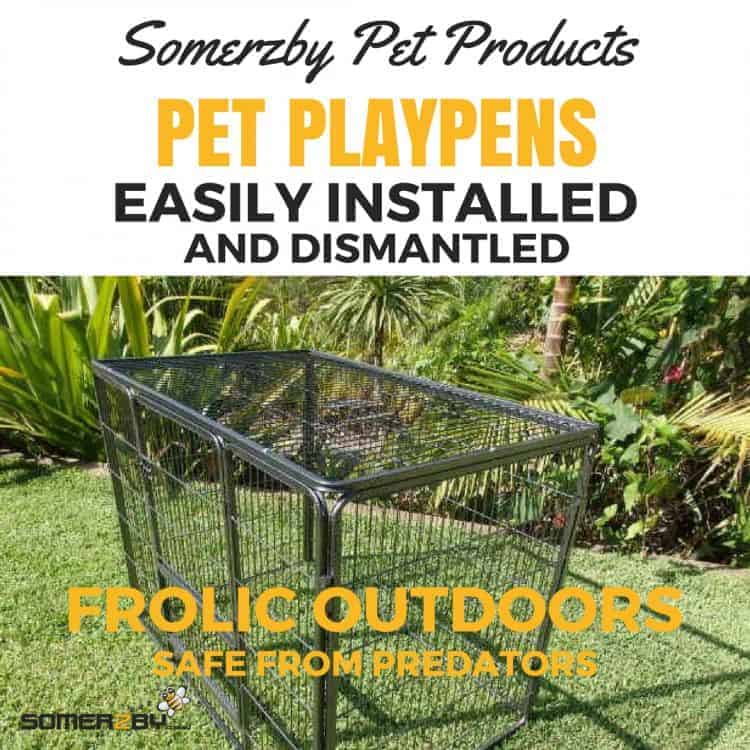 Pet Playpens
We all know the importance of allowing our pets adequate playtime and space.
A Somerzby playpen allows your animal babies to frolic in the sun without fear of predators or getting into harm's way.
The extra large model even comes with a roof for added security.
The 8 panel pens can be arranged in different configurations and are easily installed and dismantled.
The pens fold away into a convenient size and can be stored away for the next time.
Check out the portable playpen range here.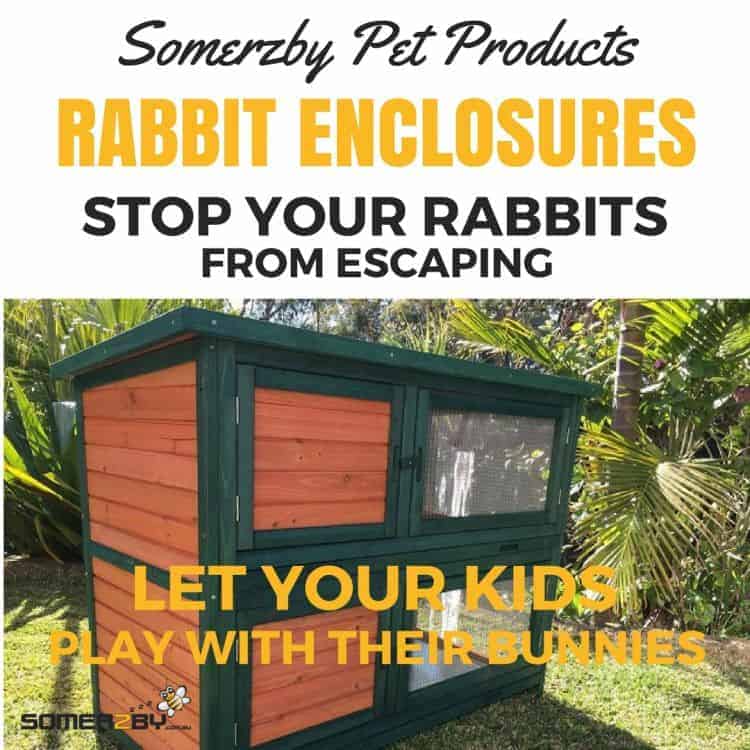 Rabbits Enclosures
Rabbits are an extremely popular pet but they have some special needs to keep them safe.
Rabbits are escape artist specialists and so it's a good idea to look for rabbit enclosures that have a netting floor such as the Deluxe Cottage and the Deluxe Mansion.
Portability is important too so you can move their home to fresh grass.
Other models include:
Deluxe Double
Tri-level
Villa and run
Bungalow
Chalet
Lodge
Other great features include metal pull out trays for cleaning and easy lockable hutch access.
The easy access allows your children to interact with their favourite bunnies.
It's important that your rabbits have the space to play and the ability to add runs means they'll always be in rabbit heaven.
Check out our Rabbit Breeding Banks and Hutches
Enclosures for Dogs & Puppies
Somerzby have the perfect sized enclosure for small, medium or large dogs.
Whether you need an adaptable, portable inside enclosure, a rugged outdoor run or a permanent kennel and run combo you'll find what you need at Somerzby.
We offer timber kennels and expandable runs.
Our enclosures are designed to be escape proof for even the largest dogs.
Check out the Somerzby range of dog enclosures here.
Enclosures for Chickens
We have a huge range of chicken enclosures to suit all sorts of chickens, budgets, and settings.
Chickens like well ventilated, safe nesting and sleeping areas that are protected from the weather and predators.
And you need to have easy access for collecting eggs and cleaning the nesting boxes.
These are key features of the Somerzby range of chicken runs and enclosures.
Enclosures for Guinea fowl and ducks
Guinea fowl and ducks like many of the same features in their enclosures that chickens do.
However, Guinea fowl will need to be trained to use their enclosure because they are pretty independent birds.
Ducks too will need protection from predators and a solid Somerzby enclosure will provide the perfect housing solution for your pet ducks.
Check out some of the Somerzby range here.
Small Animals
Smaller pets can pose special problems for enclosure design.
It's important that the mesh size is small enough to prevent your pets escaping or predators gaining entry and that includes through the floor.
We've chosen these models as suitable for your specific small pets' needs.
Lizards (Water dragon, Frill neck): Cottage, Bungalow, Mansion Run, Large Extension Run
Snakes: Tri-level, Deluxe Double
Ferrets: Mansion, Bungalow, Homestead.
Turtle: Mansion run, Large Extension run.
Quality Pet Enclosures that will last
We're proud of our reputation for providing real durable quality that you can depend on.
We use premium quality designs and materials to provide a top quality product that will last.