Birmans by Furkidz Cat Breeders
Today our guest cat breeder is Heidi from Furkidz Birmans, our third guest in our Breeder Spotlight…
Thanks so much to Heidi, she has been very kind to answer a few questions about her beautiful blue eyed Birmans cats and kittens.
How long have you been breeding Birmans?
We have been breeding Birmans since 2006.
How did you pick Birmans to breed?
I fell in love with the Birman breed the very first time I met one of these beautiful cats.
My brother's girlfriend (now wife) had one and it was the most adorable creature I'd ever met! As soon as I was able to,
I found a breeder and purchased my first Birman boy – Mogzi in 1995.
He was a much loved pet and my little soul mate. I knew then that one day I would like to breed Birmans, thinking it would be something I'd do in my retirement – but I couldn't wait that long! LOL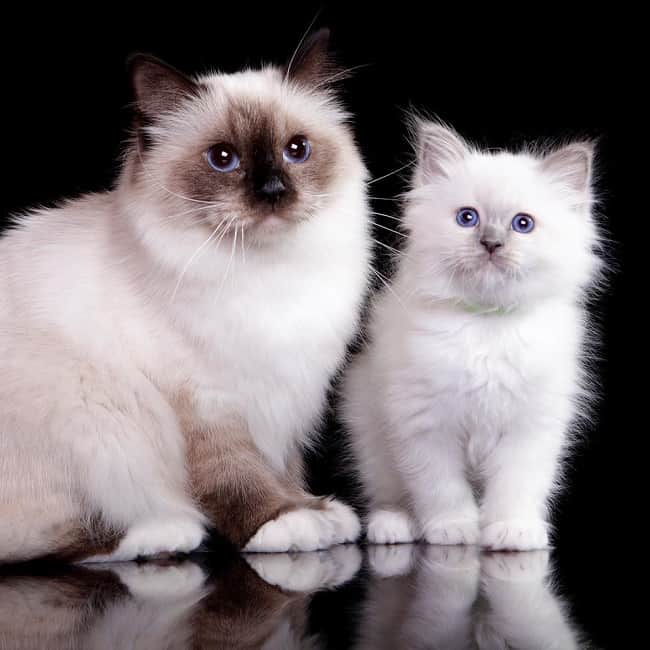 Do you show? Why or why not?
Yes. I have been showing since 2006.
I haven't been to as many shows in the past few years as I used to, due to work and family commitments, but we still get out at least a handful of times a year, just to catch up with everyone and see who's got what and how our cats stand up against the rest.
We have done really well over the years on the show bench.
What congenital defects are in Birmans?
Birmans are a fairly robust breed with no significant recurring health issues.
Like any animal they can still be unlucky and be affected by diseases such as cancer, but raised in a healthy environment with a good diet and regular vet checks they usually live long happy lives.
How are you breeding to avoid those defects?
We keep our cats in an airy, clean environment and only have strong healthy cats in our breeding program.
We breed first for health and temperament, and additionally to meet the breed standard and improve lines.
How large is your breeding operation?
I have 2 stud boys and 4-5 breeding girls who have 1 litter per year each when they are between 2-5 years old.
Where do your cats spend most of their time?
My boys have comfortable "stud palaces" and the girls rotate between outdoor enclosed runs, our purpose built kittening room and with us in the house.
They are totally spoilt pets first and foremost who have the best of everything.
What sort of health guarantees do you offer?
No kitten leaves without first being wormed, vaccinated, microchipped, desexed and undergoing a full health check by our vets.
All kitten buyers are given an extensive kitten care document with advice regarding feeding, ongoing health checks and answering the most common questions we have had over the years.
I ask that all kittens be taken to the new owners local vet for an additional vaccination and health check within 14 days of leaving here and new owners keep in regular contact with me…
… and are free to ask for advice at any time regarding any issues they have settling in their new family member, toileting, illness etc.
I do not put a blanket health guarantee on my kittens instead preferring to deal with each case individually as it arises should something go wrong.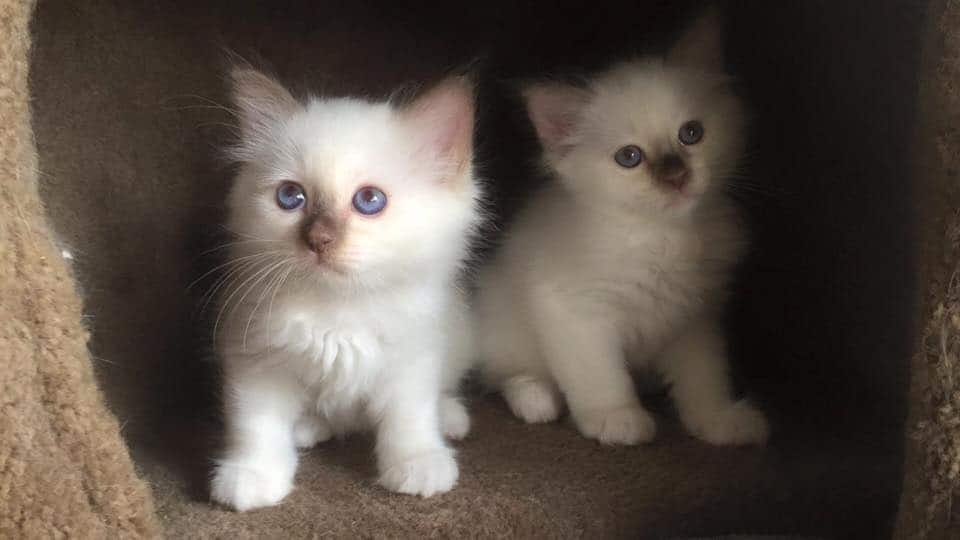 What happens if the kitten gets sick?
Owners should get a vet check if they suspect their kitten is unwell.
I am happy for them to contact me for advice but I am not a vet so I can't diagnose an illness. I can only base my response on personal experiences.
Do you have any fun adoption stories to share?
I have many repeat customers and families who come to pick 1 kitten and end up buying 2.
I had one family come to meet their chosen kitten and whilst they were visiting another kitten from the litter fell asleep upside down in the ladies arms…
… she fell totally in love with him and as he was available she couldn't pass up on the offer to take him too.
What makes this kitten or cat "pet quality" or "show quality"?
In Birmans the show standard is quite tricky to achieve as the white spotting gene that creates the white gloves is a random gene – to produce a kitten with perfect show markings is rare.
Of course there are other qualities that a perfect show/breed cat needs – eye colour and shape, size and shape of ears, length of tail, boning, roman nose and quality of coat are just a few of the other features a Birman is judged on.
Of course every kitten is perfect as a pet and most kittens born will be sold as pets. Just a few special ones go on to become show cats.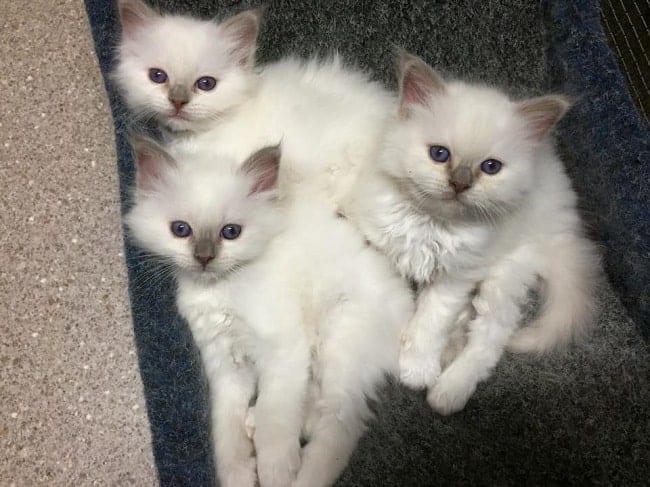 Do you keep some of your cats for your own?
Absolutely!
Those special show/breed quality kittens stay if I have a need in my breeding program to continue with those lines.
I have also sold a small number of kittens to other breeders, but I'm very fussy with where my kittens go so this is not a regular thing.
How old is your oldest cat?
Charlie is our oldest cat – he is almost 12 and is a very spoilt desexed pet.
Charlie came to live with us as an 11 month old rescued kitty. He is a chocolate point Birman boy and is my husband's "favourite" – not that we're allowed to have favourites!
What is your favourite Birmans look?
Many Birmans have a very sweet soft slightly rounded face with what I call "bedroom" eyes. Those deep baby blues will melt you every time!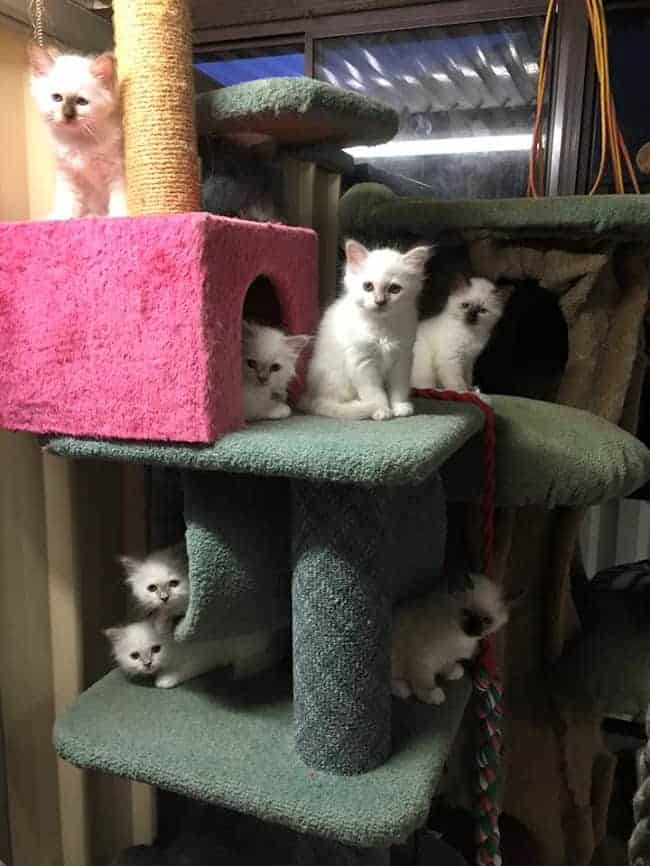 Do you raise your cats underfoot?
Yes. I have a dedicated kitten room where all mums and bubs live.
As the kitten get older, their confidence grows and their toilet training improving, they spend more and more time in with us watching TV and snuggling.
I spend a lot of time in the kitten room playing and kittens are very well socialised with everyone who visits our home.
Do you send photos of the parents before you adopt a kitten? Or do you post the parents on the website?
All my cats are featured on my website and I post regular photos on my Facebook page as well.
When a potential buyer visits the first thing I do is take them to meet all my adult cats, point out who the parents are and lastly take them in to meet the kittens.
I like buyers to see my entire setup and the health and temperament of all my cats before choosing a kitten.
Do you send the kitten's pedigree when you adopt a kitten?
All kittens go with a copy of their pedigree. On those rare occasions when a kitten is sold for show or breeding the registration papers are transferred into the new owners' name.
Can people interested in purchasing one of your cats visit your cattery?
Absolutely! I encourage people to come and visit when kittens are old enough to have visitors.
I have also, on occasions, had visitors come when I don't have kittens to meet my cats and see if the breed is right for them, test out allergies etc.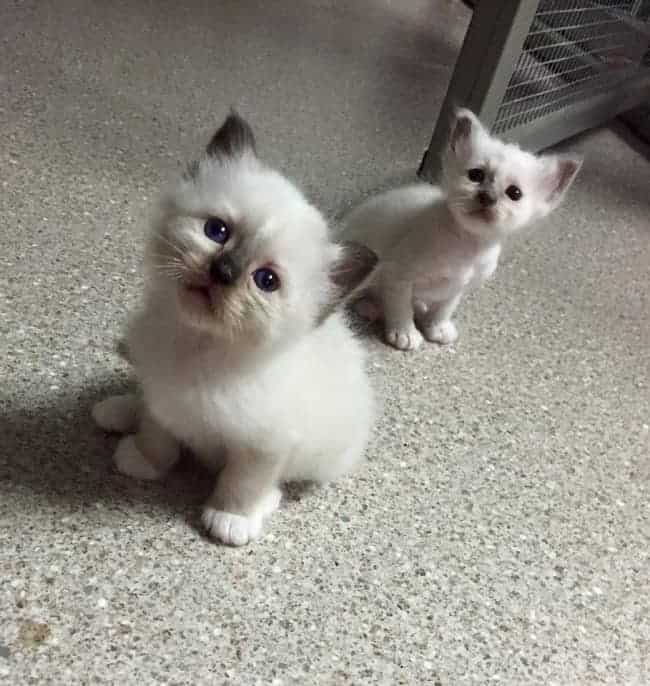 If a possible adoptee cannot visit your cattery, are you willing to talk to your adoptee on the phone?
I always like to talk to potential buyers before committing to sell them a kitten.
Just as I expect a buyer to do their research and "suss" me out, I too ask questions to ensure that my kittens go only to the very best of homes.
How do you honour your health guarantee?
I ask that if any issues arise the new owner contacts me ASAP to discuss. Every case is treated individually.
What if a kitten gets adopted and the customer is unhappy with a kitten, what do you do?
They must contact me ASAP!
I will take a kitten back, no questions asked, should the circumstances not be right for the kitten or cat at any age. I will assist in finding the cat/kitten a new suitable home.
How are your kittens registered?
I am a registered breeder with NSW CFA.
All kittens are microchipped and a transfer of microchip registration is completed when the kitten leaves home.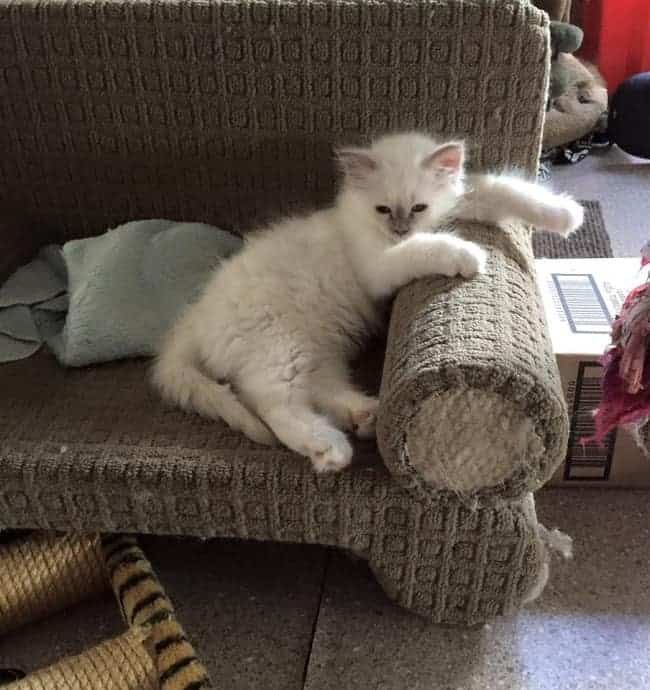 What vaccination brand do you use? And what vaccinations are given, when?
All kittens get the F3 vacination – usually at 9 weeks of age. They then have a second vaccination at around 13 weeks.
What are the kittens fed?
I feed a variety of quality foods.
Babies usually start out with Royal Canin BabyCat biscuits on offer as they start to teethe.
They then have access to whatever their mother is eating – a mix of top quality kitten biscuits, fresh raw meat, grated cheese etc. with the occasional treat of wet food sachets.
To get in touch with Heidi, visit her website at www.furkidz.birmancatz.net
Birman Breed Standards
See also
British Shorthair Cat Breeder Spotlight
The Cat Enclosure For the Aussie Backyard
All Your Cat Questions Answered