The New Somerzby Dog Kennels
Dogs are a human's best friend and so you'll want to make sure your dogs have the best sleeping area you can get.
Somerzby large wooden dog kennels provide sold durable protection from the weather for even the largest dogs.
And the kennels look really great in any setting with their beautiful fir grained wood and charcoal trim.
Why are Somerzby kennels superior?
Somerzby wooden dog kennels, like all our Somerzby products offer superior quality. Somerzby wooden dog kennels are the leaders of the pack thanks to outstanding features such as:
Waterproof asphalt sloping roof
Solid rot resistant wooden construction
Off-centre entrance maintains a large area within the kennel that is free from draughts
Plastic flaps hanging over the entrance keep out annoying flies and other insects and reduce cold winter draughts
Specially designed feet raise the floor above the ground
Solid fir timber has been chosen for the construction of the Somerzby dog kennels because of its superior rot resistant qualities.
In addition, the timber has been stained with a non-toxic water-based stain for added water resistance.
The stain is completely safe for your animals and for inquisitive children.
The asphalt roof is completely waterproof and is designed to drain water away quickly and prevent any moisture entering the inside of the kennel.
The asphalt also provides some thermal insulation against the heat of the hot summer sun. There is a choice of colours for the roof (red or black).
The roof hinges open and can be kept open with solid metal struts allowing easy access for cleaning or airing the kennel.
The floor likewise can be lifted out for easy cleaning.
The plastic flaps are made of hard wearing heavy-duty plastic and keep out annoying insects and reduce cold winter draughts.
The flaps are easy for the dogs to push aside and
Thoughtfully designed adjustable plastic feet keep the floor of the kennel raised above the ground and eliminate winter moisture and cold air from seeping into the kennel area.
Why do I need a wooden dog kennel?
A Somerzby wooden dog kennel is the best option for your dog because Somerzby kennels are:
Ideal for your dog's health – avoids the extremes of heat and cold or exposure to moisture and wind
Good for the environment – because we use wood that is highly recyclable and use a non-toxic stain
Very attractive – our kennels look great in any setting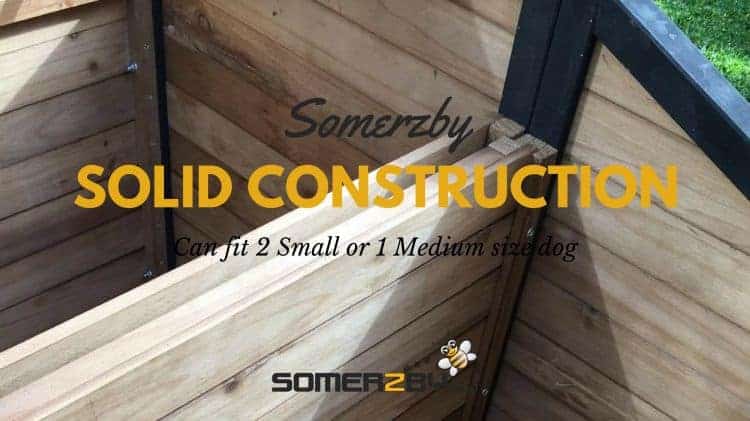 The most important reason why you need a wooden dog kennel is for the sake of your dog's health and well-being. Providing good shelter for your dogs is key to maintaining their vitality and enthusiasm.
The health of your dog is very important to you. Dogs need to be protected from extremes of heat and cold and also from damp and windy conditions.
Wood is the ideal material for a dog kennel. Dog kennels made of other materials can actually cause your dogs to suffer in weather extremes.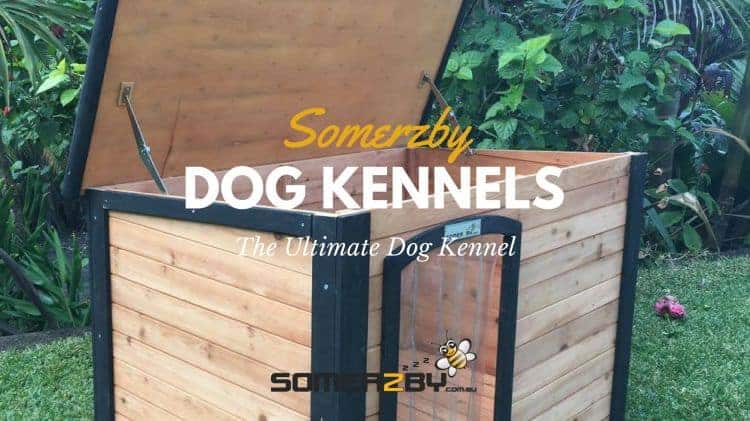 Tin is commonly used to make kennels but the metal can heat up to extreme temperatures in the summer sun creating an oven-like atmosphere in the kennel and causing real distress for dogs.
Somerzby wooden dog kennels are also great for the environment. Fir is naturally resistant to rot and so needs minimal treatment to maintain its good looks and strength.
The non-toxic stain used to add a depth of rich natural colour to the timber is water-based and non-toxic making it safe for both your animals and young children.
And the Somerzby wooden kennels look great anywhere. Richly grained timber plus the contrasting charcoal coloured trim gives the kennel a really classy look.
Looking after your Somerzby wooden dog kennel
The Somerzby wooden dog kennels are built tough to survive all that the harsh Australian climate and the rough and tumble of your dogs (and children) can throw at them.
Just a few simple steps are enough to keep your Somerzby wooden dog kennel looking after your dog and looking good doing it for years and years.
Think carefully about where you are going to place your new kennel. Choose a level area with good drainage—an area of gravel is good but anywhere the water can drain away quickly is fine.
Don't put the kennels in areas where heavy winter rains bank up and then leave pools of mud when the water finally drains away.
Think carefully too about the amount of sun the kennel will get in both summer and winter.
Especially avoid all-day sun in the hot months but also avoid complete shade in the winter months (a sure-fire way to encourage mould build-up).
Remember that if you place the kennel under deciduous trees you will want to clean the leaves away, as leaf build-up can also contribute to winter mould and mould and damp can have a negative effect on your dog's health as well as the life of your kennel.
Keeping your kennel clean is an important step to maintaining the life of the kennel.
The hinging roof and lift-out floor mean that Somerzby wooden dog kennels are so easy to keep clean and as everyone knows 'cleanliness is next to dogliness'.
After some years you might need to apply another coat or two of water-based non-toxic stain especially if the kennel has been exposed to severe weather.
Be wary about placing the kennel next to fences or walls, as the dog may be able to climb on the kennel roof and use it to get over your fence.
Related products:
Dog Crates – Small through to Extra, Extra Large
Puppy Playpens – Large through to Extra Large