With climate change and waste pollution issues being raised, we're all trying to live a little greener. One of the best places to start an eco-friendly lifestyle is with your pets.
Whether you're trying to reduce your carbon "paw print" or wanting to introduce animals to have a greener home, these tips will help you take care of our planet with your pets.
Ways to Be Eco-Friendly with Your Household Pets
No matter what animal you have these tips will help make your home a little greener.
One of the best places to start is trying to reduce waste in your household. Making a few simple changes will keep the garbage bin lighter, and our landfills smaller.
Swap out single use items for something reusable. Ditch the paper towels and use hand or tea towels that are machine washable.
Reusable bags don't have to be just for shopping – remember to take them along with your next trip to the Pet store when buying food or products.
Check the labels on your packaging to see if it can be recycled.
Cans of food, boxes of treats, and plastic medicine bottles are all recyclable.
Plastic meat trays can be recycled, but black polystyrene may not be so check with your local Council.
What can you make at home? Making your own treats and food is a great way to cut down cost and reduce packaging waste.
Getting meat at the butchers? You can bring your own reusable container or bag for them to package your meat and save the plastic bags and wrap.
Where you put your pet's poop can matter too. Swap out plastic bags for biodegradable bags, and choose all-natural, biodegradable cat litter.
Go one better and start composting your pet waste. You can buy ready made pet waste compost bins or cut costs and make your own.
If you feed your pet table scraps or food on a paper plate, swap that out for a reusable plate.
Designate a plate everyone knows is for the pet and store it away from regular dishes.
Stop using plastic bottles. One million plastic bottles are bought every minute around the world, and many aren't recycled and end up in landfill.
Install a filter on your tap water and use a washable bottle when taking water for your pets when you go out.
Need bedding for your guinea pig or rabbit hutch? Recycle old paper, letters, and newspaper by shredding them for bedding use.
Think before you throw. While you might not need them anymore, some products can be reused in other ways.
Call your local RSPCA or shelter to check if they could use any of your old items, sell items at a garage sale or through Gumtree, or organise a swap with friends.
Some items could be reused for other purposes too – food cans can be turned into plant containers, and old bedding could be used as cleaning rags.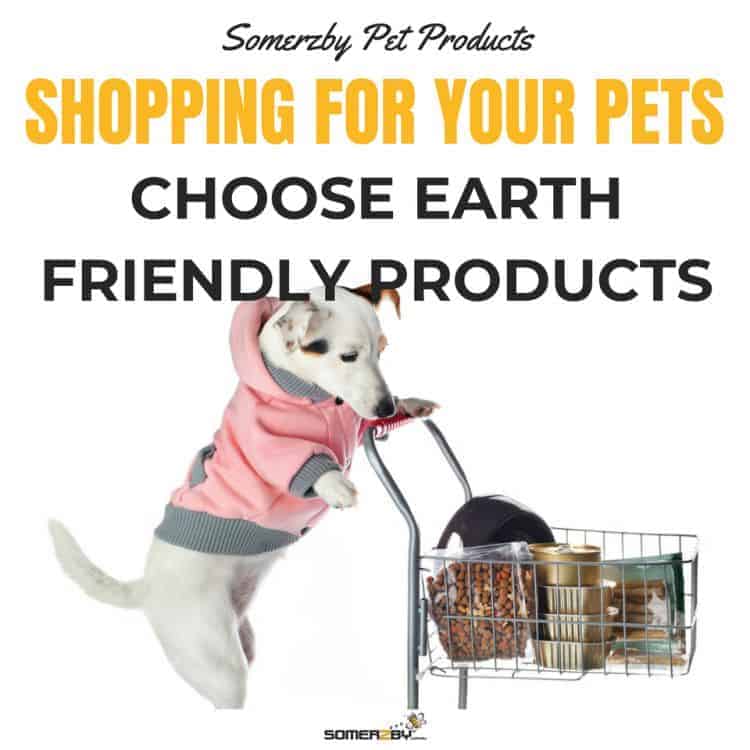 What About When You're Shopping?
When shopping for your pet products you can try to choose earth-friendly alternatives. Use these tips when you're next at the pet store – and don't forget the green bags!
Try and buy eco-friendly labelled products whenever possible.
Choose toys that have been made with recycled or plant-based materials.
Avoiding plastic is always a good idea – think glass food bowls, wooden toys, and recycled bedding.Ditch the chemicals.
When buying cleaning products look for non-harmful green chemicals which will help limit air and water pollution. Recycled packaging is a big plus too.
You might not even need to buy cleaning products if you have everything available in your pantry.
A popular carpet deodoriser recipe just uses bi-carb soda, borax, and your favourite essential oil.
When thinking of DIY recipes, remember there's not much vinegar and baking soda can't clean. Making your own recipes helps cut costs too.
Buying items in bulk is another great way to save money and reduce packaging.
Switch to sustainable pet food as well. It's reported that beef production uses a lot more resources than chicken or rabbit.
Choose tuna brands that fish responsibly and avoid destructive methods.
Check if your cat's favourite tuna is doing things green – download a free guide at changeyourtuna.org.au thanks to Greenpeace.
When you're buying a product, make sure that's durable and going to last a long time. Having to replace items can become costly and just means more waste going to landfill.
Wooden coops, kennels, or other enclosures are a lot more environmentally friendly than metal or plastic. If the wood is untreated it can even be put into the green-waste bin.
Choose companies that only source wood from plantations instead of rainforests. All our pet products use wood that is rot-resistant fir grown in sustainable plantations.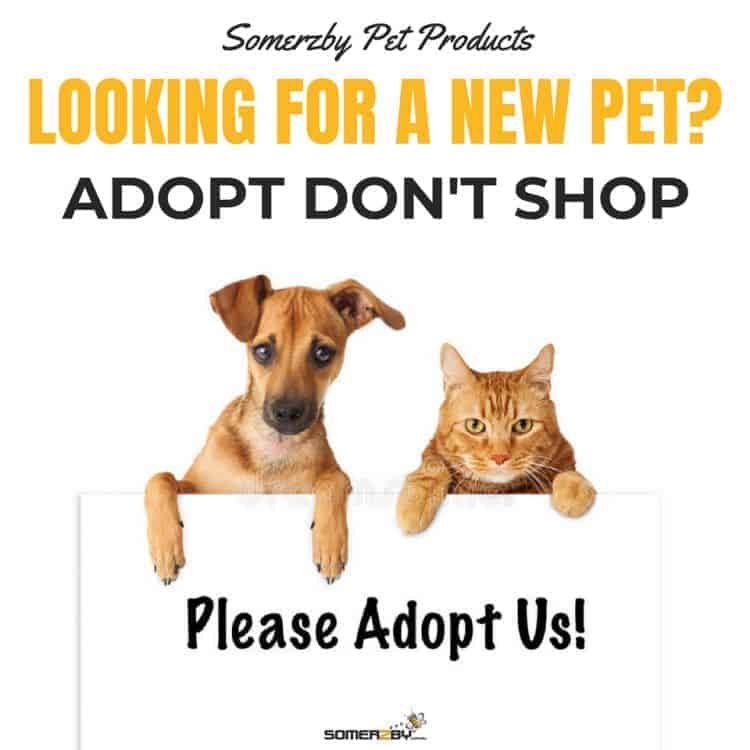 Looking To Get A New Pet?
Thinking of adopting a new furry, feathered, or scaled friend into the family? Be eco conscious when buying and try to start your new pet's life off with a green start.
If you want to go with a breeder, thoroughly research your breeder of choice and ensure they're using ethical practices. A little investigation can go a long way in ensuring your new animal is coming from a healthy home.
Adopt Don't Shop!
When buying a new animal, always try to look to rescues and shelters first. Animal shelters are often overcrowded, and many animals are stuck in limbo waiting for a forever home.
Helping to reduce this will save precious resources that shelters desperately need.
Check out your local RSPCA or rescue centre. We love our local shelters Claws N Paws, RSPCA, Central Coast Animal Care Facility,
Wally's Doggie Rescue, and Tiki Animal Rescue. They're all doing amazing work taking care of so many sweet souls, and what better way to start off your new pet parenthood than by adopting?
Remember that the more pets there are in the world, the more resources that are being used. Always spay and neuter your animals to help prevent unwanted litters. This will help ease shelter overcrowding too
Some of our local animal shelters on the Central Coast:
Claws N Paws
Wally's Dog Rescue
Want to Save a Life?
Adopt a factory-farmed animal doomed for slaughter.
Thousands of hens are killed once their egg-laying days are over. These factory farms often have miserable conditions and use unethical practices.
They're all about quantity over quality, meaning a lot more waste ending up in landfills too.
Consider rescuing a sweet hen and showing her a better life. There are many adoption programs and rescue groups across Australia.
Some adoption programs include:
Edgar's Mission (VIC)
Lefty's Place Hen Rescue (VIC)
NSW Hen Rescue (NSW)
Emma's Chooks (QLD)
Freedom Hill Sanctuary (SA)
The Battery Hen Adoption Project (QLD)
Brightside Sanctuary (TAS)
Big Ears Sanctuary (TAS)
What If We Could Stop the Problem at the Source?
Consider greening up your diet and eating more vegetarian and vegan meals.
Worldwide, farmed animals produce more greenhouse gas emissions than the entire transport system. Reducing demand for products like battery eggs or farmed animals can drastically reduce your carbon footprint.
Also try to buy local. Doing this not only helps local businesses, but also cuts down on products needing to be transported over long distances.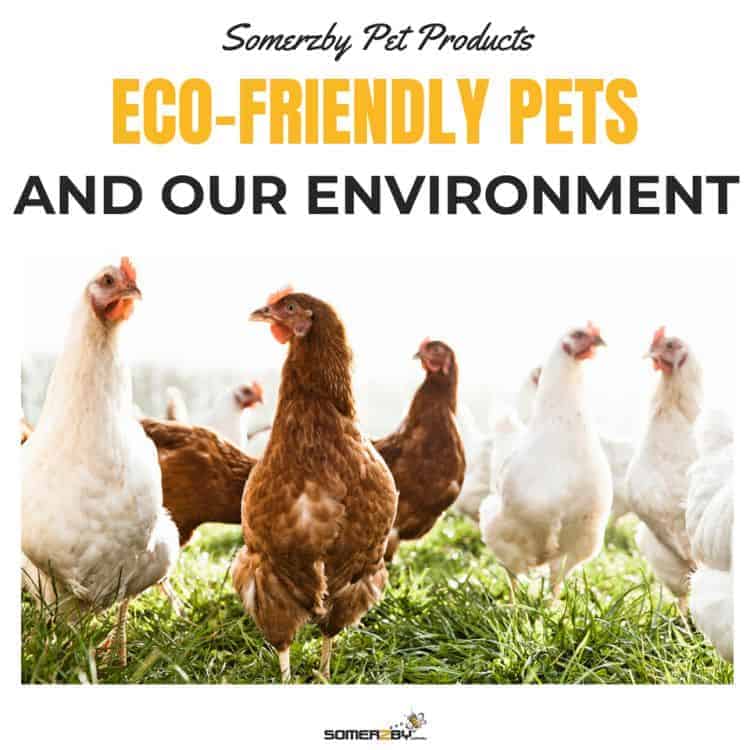 Chickens and the Environment
Our favourite feathered friends are a great way to start making your household greener.
Chooks have several benefits including eating old veggie and garden scraps, chomping up bugs so you can avoid that toxic garden spray, and ensuring your breakfast eggs are coming from an environmentally friendly and ethical place.
What About Fish?
Prefer aquatic friends and wondering if you can make your fish greener?
Ditch the rainbow coloured flakes and buy natural fish foods. Want some updated aquarium decorations?
Look for ways to repurpose old items.
Reuse, donate, or sell old or leaking aquariums. That old broken fish tank could be turned into a reptile habitat, an art project or a garden section.
If you have freshwater fish, try using old tank water in the garden or compost pile. It's full of nutrients and saves water resources.
Steer Clear Of Exotic Pets
Exotic animals are often on protected or endangered lists, and there's a high chance your exotic pet was procured illegally. This is not only devastating for the animal but can severely upset our natural wildlife.
It's difficult for Australia to keep track of how many exotic pets there are because they typically don't need to be registered with Council.
Popular exotic birds such as the Rose-Ringed Parakeet are often reported as escaped. This could have dire consequences as many of these birds are considered a serious agricultural pest.
If you want to keep an exotic pet, ensure you're being a responsible owner. Always report a missing pet to your state or territory biosecurity agency.
Keeping our precious resources safe is one of the biggest motivations for living a greener lifestyle.