Main Coons by Kowlcoons Cat Breeders
Today our guest cat breeder is Sue from Kowlcoons Kats & Kittens, our second guest in our Breeder Spotlight…
Thanks so much to Sue, she has been very kind to answer a few questions about her beautiful Kowlcoon Maine Coons cats and kittens.
How long have you been breeding Kowlcoons?
We have been breeding for eleven years nine of them being the Maine coon.
How did you pick Kowlcoons to breed?
Kowlcoons is part of my surname in memory of my late husband. I chose the Maine coon breed as I fell in love with them on site.
For A cat that is the largest domestic cat in Australia they have a gentle nature and Is so loving and loyal.
They hold themselves with a grace that is mesmerising And their voice is not fitting with their size (unless they are calling lol).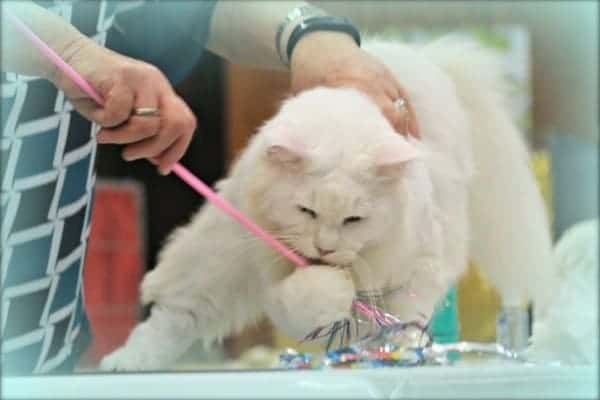 Do you show? Why or why not?
Yes we show our fur kids and we were the first to put the solid colour on the Show bench in North Queensland.
With that litter we took out best litter in show And Kowlcoons King of Orpheous took out best kitten in show.
His daughter Kowlcoons mystical white lunar moon has done our cattery proud by winning consecutively years in a row best group one cat at the Royal Easter show.
She was also cat of the year.
What congenital defects are in Kowlcoons?
We have had no clinical signs of defects in our years of breeding. How ever Maine coons are well known for HCM.
How are you breeding to avoid those defects?
All breeders strive to better the breed as do we
How large is your breeding operation?
We would be classed as a medium to large cattery.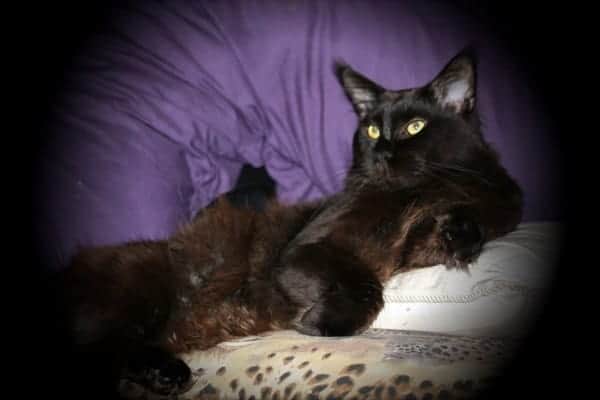 Where do your cats spend most of their time?
Our cats all live under the main roof of the house.
My stud boys have Runs on the front verandah and my girls have to large runs on the back And side verandahs and they also have run of the house.
What sort of health guarantees do you offer?
We offer a 72 hour guarantee and they also go with pet insurance for six weeks.
What happens if the kitten gets sick?
We are always there to help out if that happens with advice and help.
What makes this kitten or cat "pet quality" or "show quality"?
With breeding you have a set of "standards" that you are supposed to breed to. Each breed has its own standard and sometimes these standards differ from country to country and sometimes association to association.
With the Maine coons their are two distinct looks one is called the Ferrell look and one is sweet face or teddy bear look.
We try and breed to the Ferrell look. If a kitten does not conform to either of these two looks they are deemed as pet quality.
My pet hate are noses with a bump in them.
See the Main Coon Breed Group Standards here!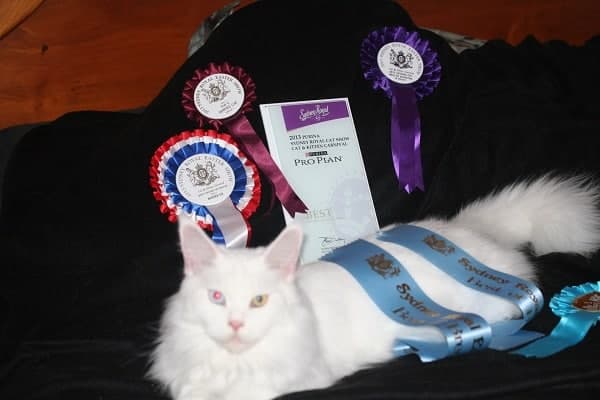 Do you keep some of your cats for your own?
Yes definitely
What is your favourite Kowlcoons look?
Mm I love them all but my weekness is solid black big boned and muscular tufts On ears, a strong jaw a straight nose and has that look that says don't mess with me lol.
Pity the look is just that a look.
Do you raise your cats underfoot?
All my babies are brought up as part of the family
Do you send photos of the parents before you adopt a kitten? Or do you post the parents on the website?
Both each baby goes with his or hers baby photo album.
Do you send the kitten's pedigree when you adopt a kitten?
All babies are adopted with their papers. As they belong to the kitten it's their birth certificate.
Can people interested in purchasing one of your cats visit your cattery?
Yes after their vaccination
If a possible adoptee cannot visit your cattery, are you willing to talk to your adoptee on the phone?
We use Skype so Bub gets to know their voice
How do you honour your health guarantee?
Each case would be handled on its merits.
When a kitten leaves here Healthy and no issues but it's the environment that has made them unwell we advise The owner on how to rectify the problem.
If it is a hidden issue and not picked up At vet check we will discuss on how to proceed.
What if a kitten gets adopted and the customer is unhappy with a kitten, what do you do?
Try and fix the problem first and foremost. They are not furniture and behave as they are treated. If it's a major problem we will accept the kitten back.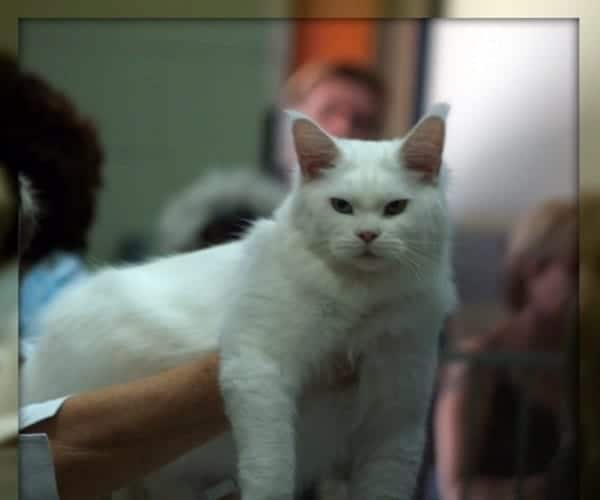 How are your kittens registered?
With a registering cat body. Ours is AICC inc. we are part of the world cat federation.
What vaccination brand do you use? And what vaccinations are given, when?
Fevac 3 and is given at eight and twelve weeks normally.
What are the kittens fed?
Royal canin baby cat then Royal canin kitten then on to Royal canin Maine coon. Along with fresh roo or (human) chicken meat.
To get in contact with Sue visit her website at www.kowlcoons.com
See also
British Shorthair Cat Breeder Spotlight
The Cat Enclosure For the Aussie Backyard
All Your Cat Questions Answered