Introducing your pet to a new child
For many of us our pets have been our "first" babies – or like many say "Fur Baby"! Owning a pet together is a big step and for many having a pet is enough of a family some need, for others the next step is having a baby and growing your family. But what happens to your beloved "Fur Baby" – how will they manage the change? How will they cope? How can you make the change easier and better for them? How do you introduce your pet to your newest family addition?
It's important that you never leave your pet/s unattended while with babies or children – even the best behaved can be unpredictable.
Consider Obedience
Training for your pet
A slow transition is best. If your pet is already used to children or babies you may find they transition easily. Your pet needs to slowly get used to the idea that they are no longer the most important and a slow transition may help them avoid anxiety or aggressive behaviour.
Your pet will now have to get used to a new schedule, new smells and behaviours and attention. When your baby arrives home your pet will feel an overwhelming sense of new smells, sights and sounds.
So it's important to take time to help them and train them to get used to your new addition.
Obedience
Stock up on treats for your pet, reward them when they behave well and listen to a command.
If your pet hasn't been to obedience class – it's time to sign them up! This will help them learn some basic principles, right now your pet jumping up to say hello may be lovely now, but when your hands are full with your new addition or your toddler in tow – it will no longer be lovely but dangerous!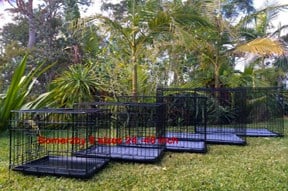 Consider using a
pet crate
to train your pet
Teach your pet basic manners such as: Sit and Down, Stay, Leave or drop it. Teaching your pet "go away" will also help them move away from a baby/child. This command can be given if you see your pet is uncomfortable or nervous in a situation and you can then command them to move (they can then retreat to their crate or playpen). You can teach them this move by tossing a treat and saying "go away" or "move" and praising them when they move.
Teach your pet to play "fetch", this will help prepare them for safe and fun interaction with your new addition.
Preparation
Prep your pet; you can do this by buying a doll that looks like a baby. This will help them get used to having a baby around. Teach them to be calm and gentle. Treat the doll as you would your baby (yes, we know this is unusual – it will help you prep for baby too!) this means cooing and carrying it with you at home. – Do not let your pet play with it!
Set the bassinet, crib and swing up with the doll and use them, the aim is to get your pet familiar with these items now – not when your baby/child is in them or using them. Let them sniff and investigate them – they will be curious and may want to sniff around it all day or they may not want anything to do with it.
Let them smell and sniff baby products; this will also help them get used to the baby smells. Wear some when around your pet.
Teach them to stay out of the baby's room and away from the bassinet unless they are with you. This will prevent your pet trying to hop into the cot/ bassinet when you're not around.
Introduce them to a crate or playpen, this will give them a safe haven for when the baby is around and they need to escape. Somerzby have a large range or crates for use, all our crates are collapsible which make them easy for storage and transportation. Click here to see the range.
Don't let them play with baby/Childs toy. This will help avoid any possessive or aggressive behaviour over sharing toys – keep dog toys away from baby toys and vice versa.
Sectioning off an area for your pet is a good option to have when you can't supervise your pet around your baby/child or when they are on the floor. This will also give your pet a designated play area with their toys, water bowl etc. Somerzby offer playpens from small to large with or without covers and are easy to store Click here to see the great range.
Sort out who will feed your pet when you're in hospital – write them a list or schedule for your pet and have everything in sight that they may need to look after your pet.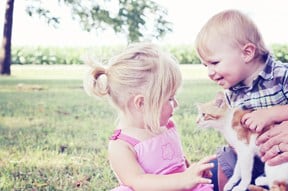 Introducing a pet cat to toddlers and babies
Introductions
The best way to introduce your pet to your baby/ child is to let them smell them. This can be done safely by letting them smell clothing or a blanket that baby has been wrapped in or worn. This is best done before you bring them home, this will help your pet recognize and accept the strange new scent.
Be prepared for lots of affection when you get home – don't let the new rules that you have established go out the door, Stay firm! Greet your pet first (without the baby/Child) and let them say hello once they are calm. Slowly introduce the baby/child, however don't shove them right in your pets face – slowly and steady and keep some distance between baby and pet.
Read your pet's body language look for good happy signs such as a wagging tail, sitting calmly, and head down. If your pet turns their back and avoids the baby/child – see this as a red flag, your pet may not be ready to be around a new addition.
Teach your child as early as possible to not pull, tug, hit or squeal in your pets face this will help them understand to be gentle around pets.
Remember to ease your pet into meeting your newest family member and before you know it they will be best friends.
Sources