A well-made cover for your dog crate is an invaluable tool for ensuring your dog feels right at home and becomes socially well adapted around you, your family and visitors.
Somerzby dog crates and covers serve a number of purposes including:
Keeping your pet safe in the car and the driver free from distraction when travelling with your dogs on holiday or vet visits
Providing overnight shelter for dogs that need to be temporarily isolated or prevented from running (e.g. after surgery)
Training and timeout purposes
Offering a calm, quiet den-like place for your dog to retreat away from overly playful children
Creating a safe temporary dog run outside so your dogs can play without supervision
Our superior dog crate covers are designed to fit our large dog crates and are available exclusively when you purchase a Somerzby dog crate.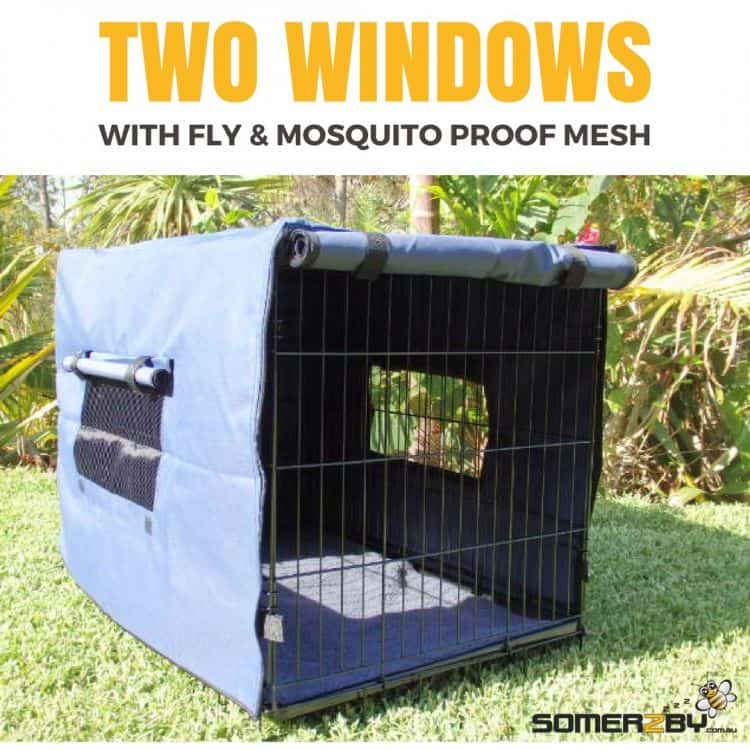 Why are Somerzby Crate Covers So Good?
The Somerzby crate covers are made of waterproof, heavy duty synthetic canvas to match your extra extra large size collapsible dog crate, see more info:
We have chosen a superior grade of synthetic canvas because it's much more resistant to rot and mould than ordinary canvas.
This tough material is also scratch and tear resistant and can absorb all the punishment your dogs can throw at it.
The Somerzby heavy duty covers protect your pets from flies, mosquitoes, sun, wind, and rain and help create a more restful calming space for a home away from home or while travelling.
Our crate covers are loaded with great features including:
Two windows with fly and mosquito proof mesh
Roll up cover—great for controlling the amount of ventilation and light
A front flap that can zip or roll up
Heavy duty, waterproof synthetic canvas construction—made to endure the harsh effects of the Australian sun, the weather, and perfidious paws and teeth
A colour choice of blue or green
Rugged double stitching ensures a long life for mesh panels and other seams.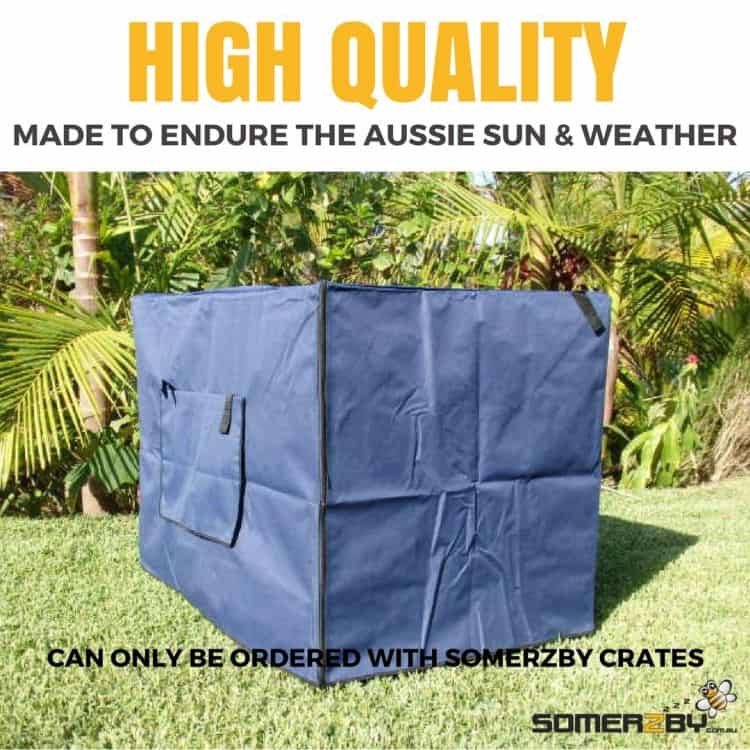 Why Do I Need A Dog Crate Cover?
The Somerzby dog crate cover is designed exclusively as the perfect partner for our superior dog crates. There are many reasons why a good quality cover is an essential part of creating a safe home for your dogs both when you're travelling and at home.
In the wild, dogs spend many hours (often more than 12 hours a day) resting in dark quiet dens. This is true for puppies and adult dogs. This need for a dark quiet resting place is still hard-wired into your dog's brain even after many generations of domestication.
Essentially a cover for your dog crate helps to create that dark homely den-like place of peace and calm where your dog can relax and rest free from anxiety.
Dr Nicholas Dodman, BVMS, Dip ACVA, Dip ACVB is a world renowned veterinary behaviourist, author and the director of the behaviour centre at Tufts University School of Veterinary Medicine.  He recommends covering wire crates to give your dog the privacy needed to feel secure.
Toilet Training
The RSPCA also recommends covered dog crates as an effective training tool for both adult dogs and puppies.
Covered crates are a great way to help toilet train your puppy.
Dogs will go to great lengths to avoid having accidents in their den and by providing a safe den for your puppies you can encourage them to go to the toilet when you take them outside for toilet breaks.
Remember to build up the time your puppies spend in the den gradually as their bladder control is still developing.
Timeout and Behaviour Management
Covers also help facilitate teaching your dog boundaries around where and what it can do in your home by providing him or her with a safe pleasurable alternative.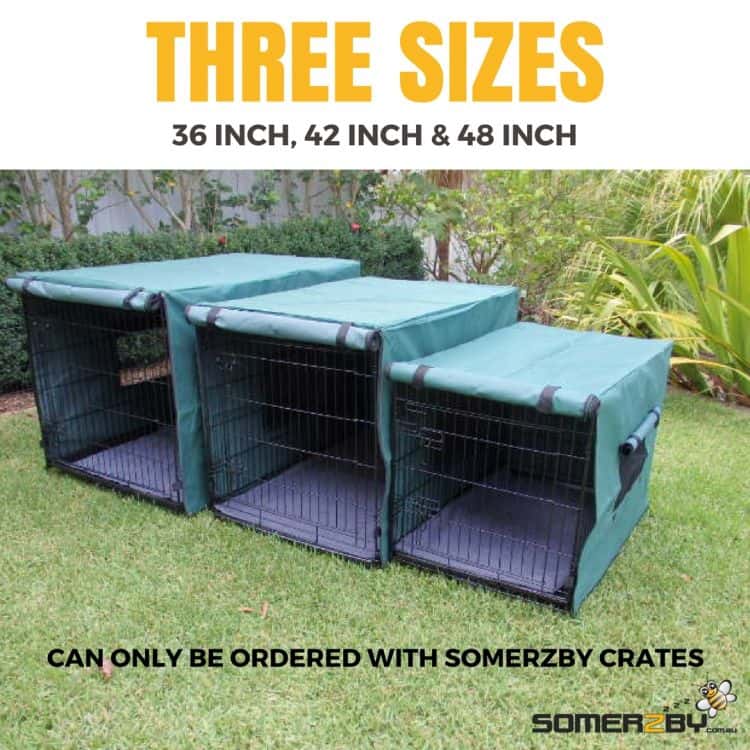 See all our all New Dog Kennels
Covered crates make great behaviour management tools both for anticipating unwanted behaviours and preventing them from occurring such as jumping on guests or as a timeout tool when.
Timeout is a very effective way to reinforce the idea that certain behaviours are not acceptable.
If, for example, an excited puppy nips a child then immediate placement in the crate for a short timeout period will teach the dog that nipping is unacceptable if it wants to enjoy being with the family.
It is very important that your dog learns to associate the covered crate with a peaceful, happy place to be so avoid using timeout too many times each day and always remain calm when you place the dog in timeout.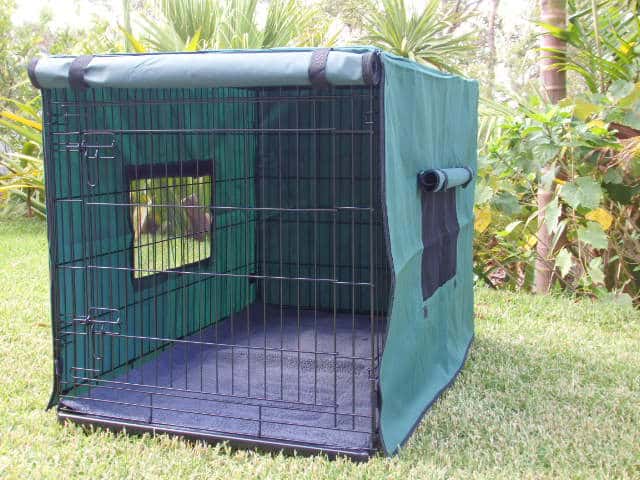 Home away from home:
Dogs like routines and feel secure in familiar surroundings.
If you train your dog to sleep at night-time in a Somerzby portable covered crate you have the perfect option for creating that familiar den like home wherever you travel with your dog.
Both in the car on long journeys or when you need to leave your pets with friends, the familiar covered den will give your dog that reassuring sense of home that will enable your dog to settle quickly and quietly into a new situation.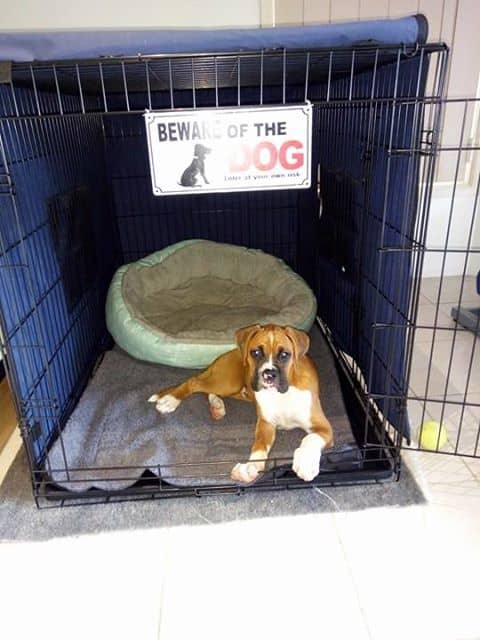 Meet Diesel, he's a Boxer puppy and he's loving his new home.
When getting your puppy used to the crate it's important that she/he learns that whining or barking is not an acceptable way to be released from the crate.
Our superior covers are made and sold exclusively for the Somerzby dog crates.
Somerzby—we've got your dog covered.