Have you ever wondered what dog breeds originated in Australia?
We have compiled a list of Australian dog breeds. Some of these can only be found in Australia while others have since been exported across the globe. But they all originated here!
Australia dog breeds are all different. Some are big, some are small. Some are bred to work while others are faithful companions. Not sure where to start?
Check out our categories below that highlight some of the breeds' best features.
Large Australian Dog Breeds
The bigger the dog, the more to love!
Big dog breeds are growing in popularity in Australia. They are great for families with a big backyard, breeds include:
Medium Australian Dog Breeds
Medium sized dogs are popular as both working dogs and family companions!
They require daily exercise to wear them out but also love a good cuddle at home with their humans.
Small Australian Dog Breeds
Ideal choice for people in apartments or with small backyards!
They are also easier to handle so are popular with older people or families with children.
Working Australian Dog Breeds
Working dogs help humans achieve certain tasks
Some work on farms while others are bred to work as therapy dogs. Breeds chosen to be working dogs are obedient, loyal and intelligent.
Australian Terrier Breeds
Terrier dog breeds are some of the most popular breeds in Australia
Terriers were originally bred to help humans hunt. All three Australian terriers are small dogs with big personalities!
These Australian dog breeds are family favourites!
They are loyal, affectionate and love nothing more than spending time with their human family.
Australian Hunting Breeds
A hunting dog has been bred to assist humans when hunting
Bull Arabs are the true Australian hunting dog, designed to help feral pig hunters.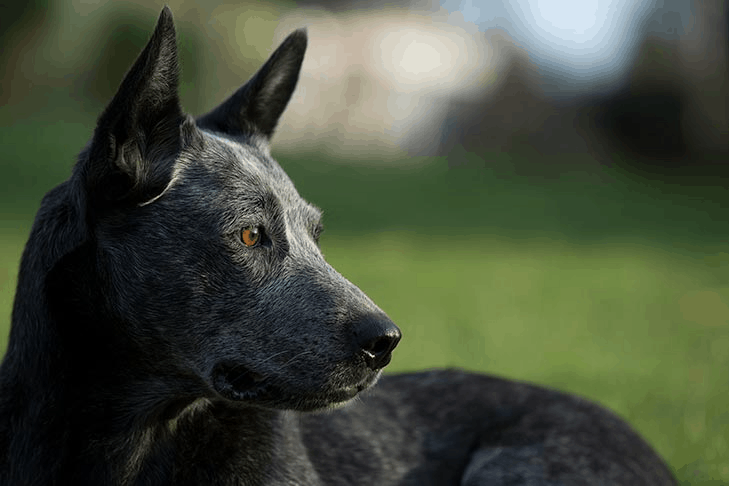 There are two types of Cattle Dog – the Australian Cattle Dog and the Australian Stumpy Tail Cattle Dog (aka. Blue Heeler or Queensland Heeler).
History
Cattle Dogs are a true working dog. They were bred in Australia in the 1800's to herd cattle and work on farms.
They were first created by mixing a Collie with a Dingo. Other breeds were then also mixed in over a 60-year period to create the modern Cattle Dogs we know today.
Unlike other herding breeds originally imported to Australia from Britain, Cattle Dogs handle the heat well. Their assistance herding has led to the growth of the Australian beef and livestock industries.
Appearance & Size
Cattle dogs have a muscular, compact, medium-sized body.
They have a short, double coat that comes in either blue or red. Their coat will often have markings that are blue, red, black or tan.
Australian Cattle Dogs have a long tail while Australian Stumpy Tail Cattle Dogs have a natural bob-tail. The Stumpy has longer legs and can occasionally be born with a longer tail.
Temperament
Because they were created to work on farms, Cattle Dogs have a high level of energy. If kept as pets, they require daily exercise.
Cattle Dogs are intelligent and loyal. They thrive at agility and can be very obedient if trained properly. They are always eager to please their owners. If left alone without a purpose, they will get bored and can be destructive.
They don't bark excessively but may be prone to biting if not socialised (as they were designed to nip at cattle).
Health
Cattle Dogs are generally quite healthy. They can be susceptible to Progressive Retinal Atrophy when they are older, impacting their vision.
Diet
Feed your Cattle Dog a diet of high-quality dog food. They will need more food on days they are working as they will be burning more calories.
Associations
The below are societies for the Australian Cattle Dog: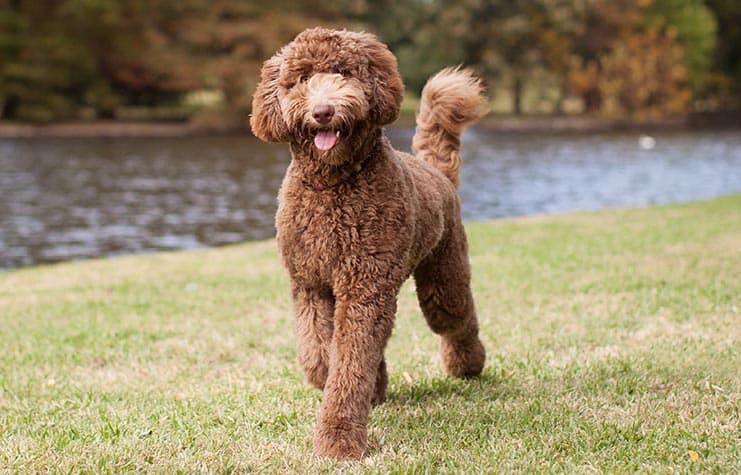 The Australian Cobberdog is a purebred Labradoodle.
History
The first Labradoodle was created in the 1980's by cross breeding a Labrador and a Poodle. In the early 2000's, crossing Poodles with other breeds became very trendy. The Labradoodle was the most popular cross breed.
From Labradoodles, Cobberdogs were developed in Australia to work as therapy or assistance dogs. In 2012, they became their own recognised breed.
Appearance & Size
Cobberdogs come in 4 sizes – miniature, medium, large and extra-large.
Their coat can be either wavy or curly which gives them an adorable teddy-bear appearance. Their fur comes in multiple colours including chocolate, cream, golden, black and red.
Their coat doesn't shed, making them hypoallergenic and ideal to work as assistance dogs.
Temperament
Cobberdogs were bred to have a friendly and enthusiastic nature. They love interacting with humans and are always happy! This makes them ideal for working as therapy dogs.
They are intelligent and very obedient if trained properly. They are often described as being empathetic and able to perceive moods in humans.
They have a high level of energy.
Health
Cobberdogs are generally very healthy. They can be prone to skin irritation, eye problems, hip dysplasia and epilepsy.
Diet
Feed your Cobberdog a standard diet of high-quality dog food with limited treats.
Dry food is recommended to prevent tartar build up on their teeth.
Associations
The below are groups for both Australian Cobberdogs and Labradoodles:
History
Australian Kelpies were developed in Australia in the late 1800s to be working dogs on farms, primarily herding sheep. It is unclear what breeds the Kelpie originated from however it is believed it was from dogs imported from Scotland.
Kelpies are still used on farms as working dogs in modern times but are also now a popular pet choice for families.
Appearance & Size
Kelpies are a medium size dog. They have a slender, muscular body with expressive, pointed ears.
They have a short, double coat which can be brown, black, blue, fawn or red.
Temperament
Kelpies are highly intelligent and learn quickly. They are a very loyal breed.
They have lots of energy. This makes them a perfect working dog. Pet Kelpies will need lots of exercise to avoid destructive behaviour.
Health
Kelpies are generally a very healthy dog breed. Their most common health issues include deafness, joint problems and eye problems.
Diet
Kelpies follow a standard diet for domestic dogs. They will require more food on days they are working as they will be burning more energy.
Associations
The below are societies for the Australian Kelpie breed:
Australian Silky Terrier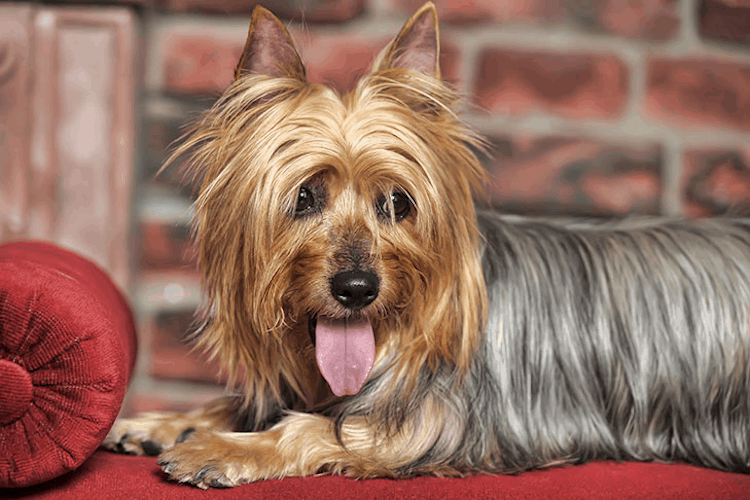 History
The Australian Silky Terrier, affectionately known as the Silky, was created in Australia in the late 1800's. The Yorkshire Terrier was used in breeding to give the modern Silky its small size and shiny coat.
They were first called Sydney Silkies but in 1956 they changed their name when Victorian and Tasmanian breeders claimed they also helped in the creation of the breed.
Appearance & Size
Silkies are a small 'toy' breed, weighing around 4.5kg. They have short legs and pointed ears.
Their name comes from their long, straight, silky coat. Owners traditionally let the coat grow to the ground but it then requires daily brushing and detangling. Many owners now choose to cut their Silky's fur short, as it is easier to care for.
Temperament
Silkies are very affectionate and will quickly become a member of your family. They love to be around people and to play.
They are quiet compared to other toy breeds but do still yap. They are known for thinking they are bigger than they are and having the confidence of a much larger dog.
The breed is energetic and alert.
Health
If Silkies are overfed, they are prone to health problems such as diabetes, kidney failure and joint issues.
Other common health problems are cataracts in their eyes and tracheal collapse.
Diet
Because they are so small, Silkies don't require a lot of food. It is common for owners to accidentally over feed them, giving them servings designed for a bigger breed. Try to avoid this as it can lead to associated health problems.
Associations
The below are societies for the Australian Silky Terrier:
Australian Terrier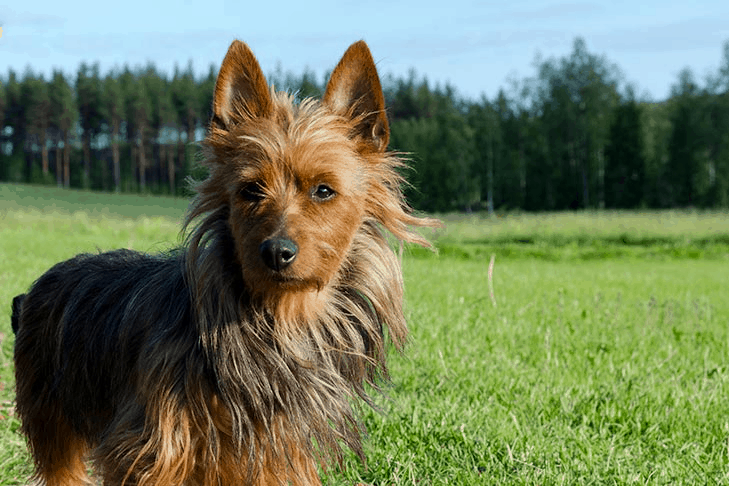 History
Australian Terriers (aka. Aussies) are a working dog, originally bred in the early 1800's to kill rodents and snakes and act as watchdogs. They were created by cross breeding various terriers from England and Scotland.
Appearance & Size
They are a small breed with a short but long body. They have a medium-length, scruffy coat that sheds minimally.
It is typically a sandy colour with black markings. Their coat will sometimes change colour at about nine months old.
Temperament
Australian Terriers love to be around humans. They are small but have a big personality! They have all the intelligence of a working dog in the body of a lap dog.
Like most working dogs, they have a lot of energy and need to be kept busy. If not, they can become bored and destructive. Their favourite activity is a long walk with their humans.
They will bark but are far less yappy than many other breeds their size.
Health
Australian Terriers have fewer health issues compared to other terrier breeds. They can be prone to joint problems, epilepsy and diabetes.
Diet
As they are only a small breed, they don't eat a lot and are therefore quite cheap to feed. Avoid overfeeding them to keep them healthy.
If your Australian Terrier is a working dog, it will require more calories each day than a dog that is purely a companion.
Associations
The below are societies for the Australian Terrier breed:
Bull Arab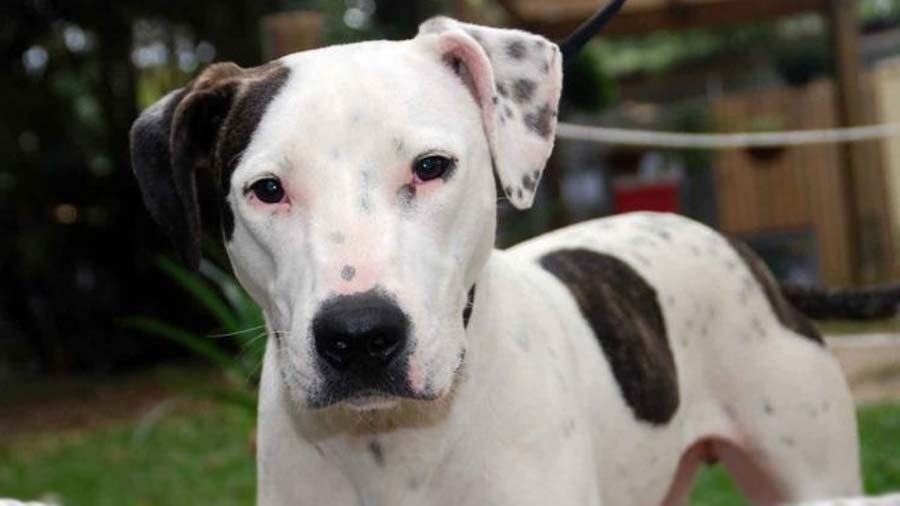 History
Bull Arabs were originally created in Australia in the 1970's by mixing a variety of strong, muscular dog breeds including the Bull Terrier, Greyhound and German Shorthaired Pointer.
Today's Bull Arabs also have some English Mastiff and Bloodhound mixed into them.
They were designed for feral pig hunting but are now a popular choice for family pets. They are sometimes called Aussie Pig Dogs.
They are the most abandoned breed of dog in Australia. This is typically due to people not realising how much exercise and training they need, or pig hunters not desexing their sporting dogs and abandoning litters.
The Bull Arab breed is not officially recognised by any kennel clubs.
Appearance & Size
Bull Arabs are a large, strong and muscular breed. Unlike many modern breeds, they were designed to be practical rather than look cute.
They have short fur that is typically white with darker markings. They need to be brushed weekly to remove loose fur.
Temperament
Bull Arabs have a reputation for being aggressive however they are affectionate and very calm most of the time. You will need to train them properly to manage their hunting instincts.
They are active and need to be exercised daily to avoid destructive behaviours. You will either need a big backyard or be committed to taking them out for a run every day.
Health
Bull Arabs are very healthy. Their most common health issues are epilepsy, eye problems and hip dysplasia.
Diet
Due to their large size, Bull Arabs can be expensive to feed. Dogs used for pig hunting will need to be fed even more, to replace all the energy they burn working.
Associations
As they are not a recognised breed, there are not many associations for Bull Arab owners. The below are groups for the Bull Arab breed:
Dingos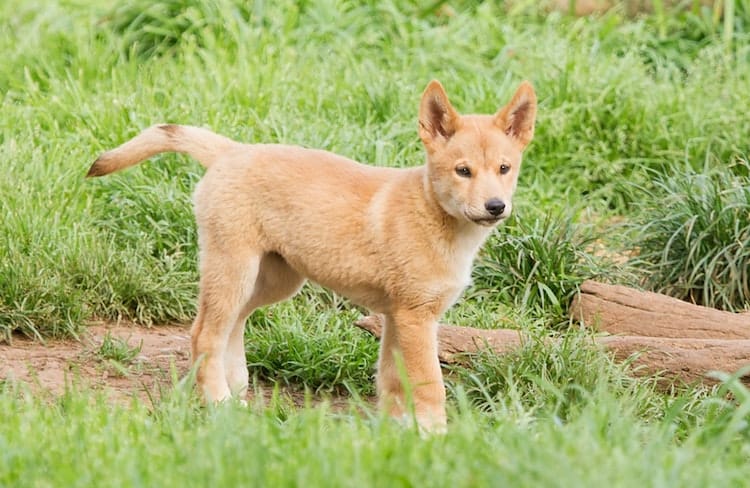 History
Dingoes are a native Australian dog breed, descended from Asian wolves. It is believed they were introduced to Australia between 5,000 and 10,000 years ago. Wild dingoes are culturally valued by Australian indigenous people.
Dingoes are only legal to keep as pets in some Australian states. In others they either require a permit or are illegal.
Appearance & Size
Dingoes have a similar appearance to domestic dogs. They are more muscular, have a thicker neck, a longer snout and a bushy tail. Their coat can be light ginger, brown, creamy white or black.
They are the size of a medium dog and can grow to over 20kg.
Temperament
Dingoes are naturally shy. They will howl but cannot bark.
Pet dingoes are loyal and form a strong bond with their owners.
They have a lot of energy and require a high level of stimulation to avoid boredom and destructive behaviour. Dingoes are more time consuming, expensive and harder to care for and train than a domestic dog.
Health
Similar to domestic dog breeds, pet dingoes need to be vaccinated and also regularly treated for fleas and worms. They are prone to obesity and related health concerns if fed an unhealthy diet.
Wild dingoes are generally very healthy.
Diet
Dingos are carnivores, meaning they eat a meat-based diet.
Wild dingoes eat native animals they hunt such as possums, kangaroos and wombats.
Domestic dingoes can be fed high quality commercial dog food and raw, meaty bones.
Associations
There are no groups for dingo owners or breeders. This is because most Australian states limit or don't allow pet dingo ownership.
The following are rescue groups and sanctuaries for abandoned dingoes:
Koolie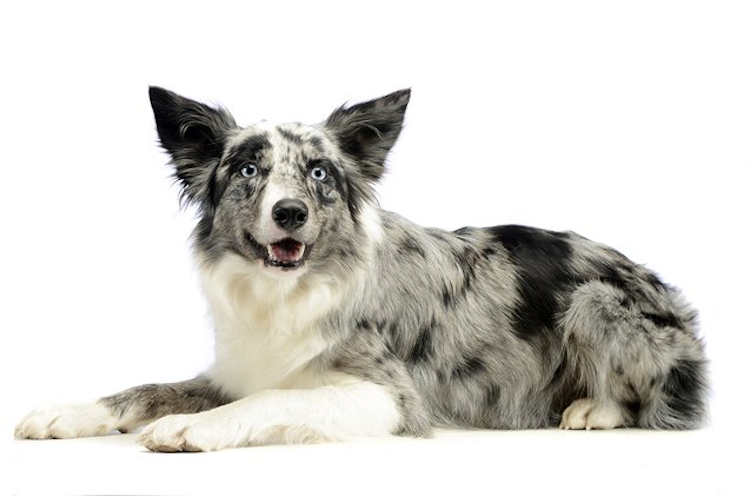 History
The Koolie was first bred in Australia by crossing a German Koolie with a Dingo. They were designed as a working dog that could handle the hot Australian weather. Modern Koolies are sometimes still called German Koolies.
The Koolie is not officially recognised as a breed by any kennel club.
Appearance & Size
Koolies have a medium-sized, muscular body. Their short fur is typically blue or red merle – meaning it has a coloured, speckled pattern through it.
Temperament
Like all working dogs, Koolies have high energy levels. If you keep them as a family pet, you will need a large yard and be committed to exercising them daily.
They will be very obedient if trained right and thrive in agility.
Koolies love being near humans and don't like to be left alone. They generally get along well with children and other pets.
Health
Koolies have a diverse gene pool and are overall very healthy. They can live up to 18 years.
Their most common health issues are skin allergies and joint problems.
Diet
Koolies should be fed a balanced diet of high-quality dog food. If you are using your Koolie as a working dog, it will need to be fed a higher calorie diet.
Associations
Because Koolies aren't a recognised breed, there are not many associations for them. The below are groups for the Koolie:
Tenterfield Terrier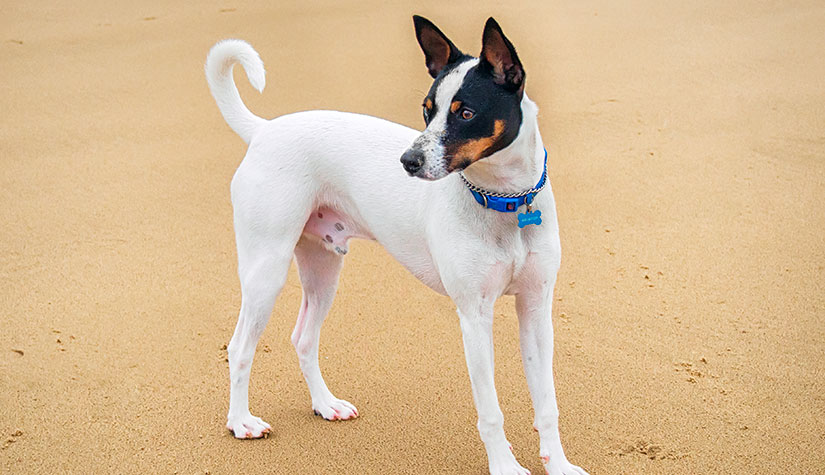 History
Tenterfield Terriers are also known as Miniature Fox Terriers or Mini Foxies.
It is believed they were created in the late 1800's by crossing Fox Terriers with other small breeds. In the 1990's, Australian TV star Don Burke came up with the name Tenterfield Terrier as Tenterfield, NSW is one of several Australian towns that is believed to have assisted in the creation of this modern breed.
The breed is not yet official recognised by kennel clubs outside of Australia and New Zealand.
Appearance & Size
Tenterfield Terriers are a small breed. They have a slender body with long legs. Their short, single layer coat is typically white with coloured marking.
Temperament
Tenterfield Terriers are a friendly, confident and happy breed. They are very active and train well with the right level of dedication from their owner. They can be both a cuddly lap dog and a working dog.
They are great with kids but cannot be left alone with small pets (such as rabbits or guinea pigs) because they have a strong, natural instinct to hunt.
Health
Tenterfield Terriers are a very health breed. They can be prone to hypothyroidism, obesity and their knee caps dislocating.
Diet
Like many small breeds, Tenterfield Terriers are commonly overfed which leads to them becoming overweight and unhealthy. Feed your dog high quality dog food in appropriate sized portions. Avoid giving it human foods as a treat.
Associations
The below are societies for the Tenterfield Terrier:
Sources
https://www.purina.com.au/en/dogs/breeds
https://www.akc.org/dog-breeds/
Bull Arab
https://www.cobberdogking.com/en/about-australian-cobberdog/australian-cobberdog
Koolie