Ancona Chicken Breed
Ancona chickens make a great backyard pet as they are hardy and easy to care for. They are a dual-purpose breed, meaning they can be used for both eggs and meat.
They are a rare chicken breed, originating in Ancona, Italy.
The Ancona chicken is most recognisable by its black feathers with a beetle green sheen. Each black feather has a small white tip on the end.
Breed Profile
Breed History
Ancona chickens originated in the Mediterranean city of Ancona, Italy.
Not much is known about their origin. For some time, they were believed to be bred from or related to Leghorns, especially the Black Mottled Leghorn.
This is because they have a very similar black feathers and related characteristics. However, this origin theory has now been disproved. The Ancona was introduced to England in 1851 and became quite popular.
They were very profitable as they are dual purpose. Breeders in England bred the Ancona until it became the breed it is today.
Anconas were first taken to the United States of America in 1888 however it was many years before they became well known amongst their poulty communities. They were then brought to Australia in the early 1900s.
In modern times, Anconas are a rare breed including in Italy where they first began.
Appearance
Anconas come in two varieties – either a single comb or a rose comb (which is always red). They have large wattles that are also red. They have white ear lobes which is typical of Mediterranean breeds.
They have yellow skin and yellow featherless legs mottled with black. Their beak is also a dark yellow colour.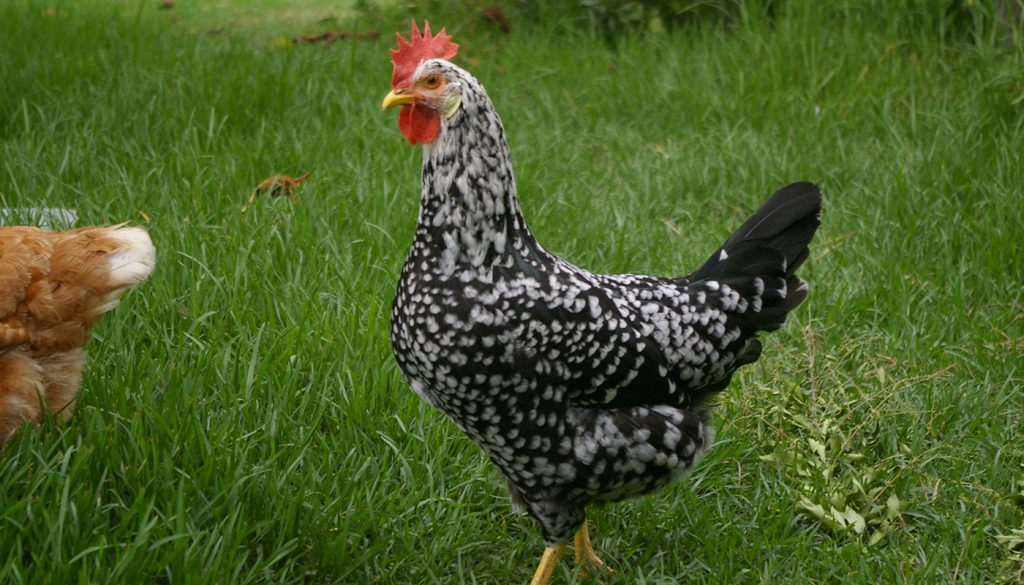 Ancona Appearance
Ancona chicken has orange-red eyes, yellow mottled with black legs
Size
The Ancona chicken is a large breed with an upright posture and a muscular body. Roosters can grow to 70cm tall while hens grow to 55cm tall. Roosters weigh 2.8kg and hens 2.3kg.
Anconas also come in a smaller Bantam variety. Bantam roosters weigh 625g and bantam hens 525g.
Feather Colours
Ancona chickens only have the one colour variety. Their feathers are black with a beetle green sheen.
Their plumage is mottled, meaning it has a V-shaped, bright white tip on the end. This tip takes up less than one quarter of the feather. This gives their plumage a speckled appearance.
These mottled white tips are stunning and make them stand out in bird exhibitions. Some people believe the Ancona's mottled pattern helps them camouflage and hide from predators.
Egg Laying
Ancona hens are reliable layers and lay a high number of eggs per year. They continue laying during the colder months of winter, unlike many other breeds.
They are a profitable layer breed as they have a good food conversation ratio.
Ancona hens begin laying eggs early at around 16 weeks old. They lay consistently for around 4 years. After that, the number of eggs per year will begin to decrease slowly.
Egg Size and Colour
An Ancona hen lays large, white eggs. They are heavier than many other breeds' eggs and have a strong, white shell.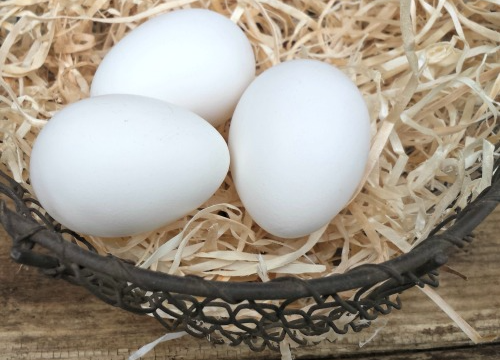 Ancona Chicken Eggs
heavier than other chicken eggs and have a strong, white shell
Egg Production
The average Ancona layer hen produces between 180 and 220 eggs per year. That is 3 or 4 white eggs per week per hen.
In 1916, an Ancona hen owned by famous breeder H. Cecil Sheppard broke the world record for most eggs laid. She laid 306 white eggs in one year!
Ancona Chickens as Pets
The Ancona' Italian heritage makes them suitable for a wide variety of climates. They are hardy and able to handle both cold winter weather and hot summer days.
Their comb is less hardy and can be prone to frostbite in snowy areas but should be fine in Australian climates.
Temperament
Anconas have a friendly temperament however don't particularly enjoy interacting with humans. They will usually ignore you unless you are about to feed them.
Handling your Anconas regularly from a young age will help them get used to you and enjoy being around humans more.
Bantams are usually less flighty than the standard variety. Anconas can be a noisy breed so are better suited to yards with lots of space away from your neighbours.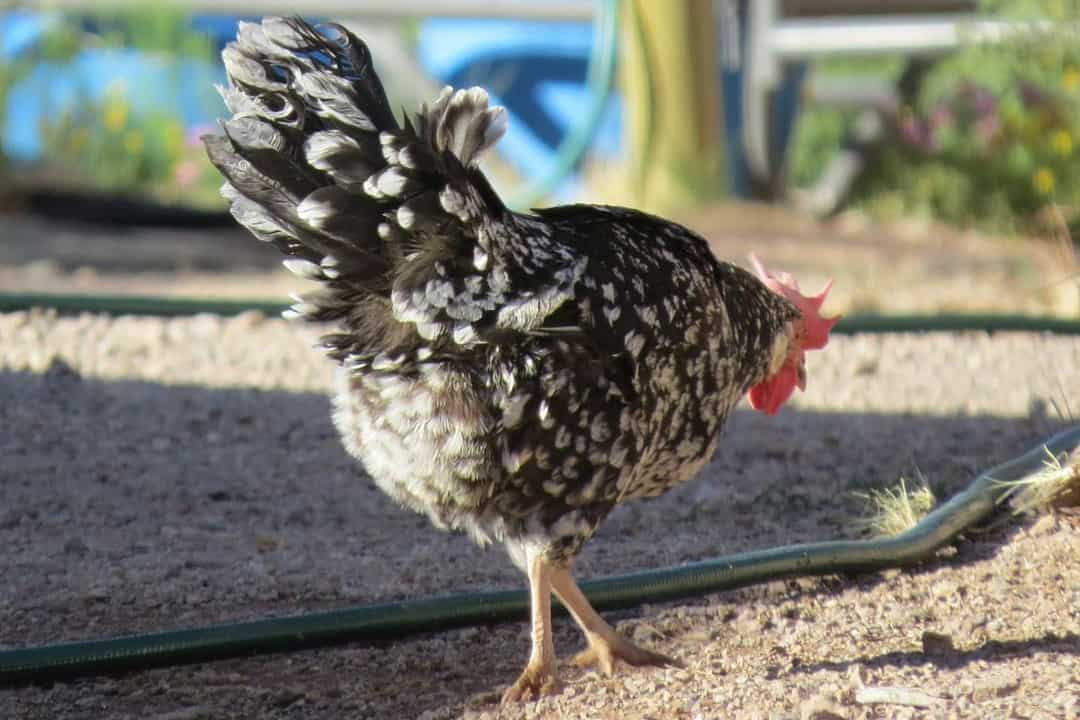 Ancona Temperament
Ancona chickens are super friendly but don't enjoy interacting with humans or kids
Chicken Health
Ancona chickens are a relatively healthy breed. They have few health issues and don't require any special care. Give them high quality feed and limit treats.
It is recommended you regularly check your chickens for mites or lice. You can help prevent them by allowing your chickens a place to regularly take a dust bath.
You should also speak to your poultry vet about mite and lice prevention medicines. The average Ancona chicken has a life expectancy of 8 years.
Chicken Coop & Nesting Boxes
The Ancona is a large, active breed. They don't like confinement and will be much happier if allowed to free range in a big, open space.
It is important to provide your birds with a coop so they have somewhere to roost overnight, safely away from predators.
Most chicken keepers will let their flock out of their coop during the daytime to free range in their yard. Anconas are active and love to scratch around in the yard foraging for bugs.
If your yard isn't safe for your birds to free range out in the open, add a large run onto your coop.
This will give them a protected outdoor space to move around. Somerzby's Large Run is 3m long and has strong wire mesh on the sides to keep out predators: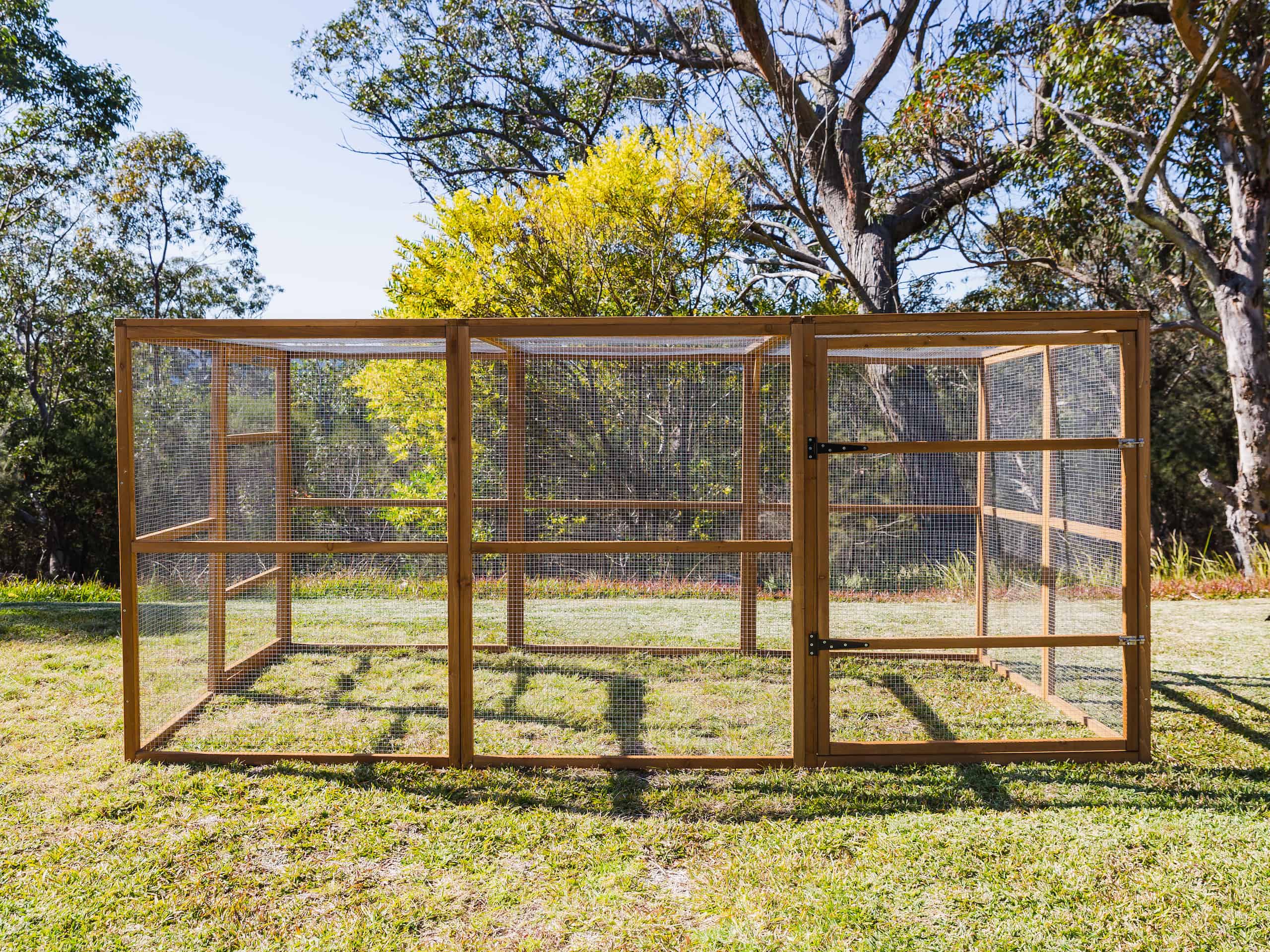 Made of rot resistant fir Wood it is coated with a non toxic stain so it's safe for your chickens
Make sure your coop has roosting poles to perch on at night time and a nesting box for them to lay their eggs. Fill the nesting box with soft, disposable bedding such as wood shavings, shredded paper or straw.
Breeding Ancona Chickens
If it not recommended that beginners try to breed Anconas. It can be difficult to get their V-shaped, mottled white tips uniform.
If beginners breed Anconas and lose the quality of their mottling, this quality may disappear within a few generations. Anconas have good fertility and chicks will usually grow very fast.
Ancona hens are not prone to broodiness. This means they typically won't sit on fertile eggs well enough to help them hatch and are sometimes referred to as "non sitters".
If you want to use hens in your flock to hatch eggs then the Ancona isn't the right breed to use. However, if you don't want to hatch fertile eggs, their trait of not going broody is a good thing.
It means your backyard hens won't become protective of their eggs or overly attached to sitting in their nesting area which can be a nuisance.
Rooster vs Hen
Most backyard poultry keepers will only keep hens as pets. Hens are more docile and easier to handle. They also lay you fresh, healthy eggs.
In general, roosters can be aggressive and difficult to approach. If you are going to keep roosters (especially as a beginner) then the Ancona may be a good choice.
They are friendly for a rooster, especially if you socialise with them regularly from an early age. Owners report they can be flighty and hard to catch.
They will defend themselves or their flock if they feel threatened so be wary and don't allow young children near them without supervision.
They will make a lot of noise if threatened which can be useful if you have a predator approach your birds. The noise may sometimes scare the predator off or at least alert you to come out and help.
Chicks
It can be difficult to tell female and male chicks apart from a young age. Many professionals are able to sex baby chicks from one day old however they don't always get it right.
Ancona chicks mature quicker than other breeds.
The first signs your chicks might be males include them growing bigger with longer legs, standing taller, having a larger comb, growing longer tail feathers and trying to crow.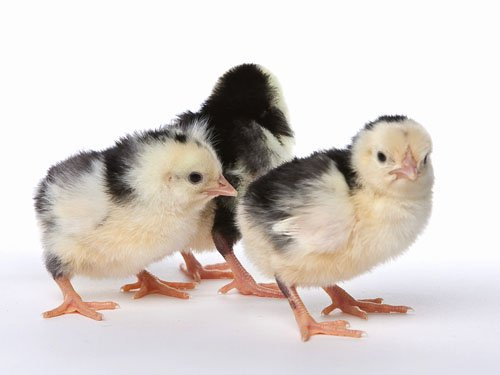 Ancona Chicks
Ancona chicks mature at a much quicker rate than other breeds
Buying Ancona Chickens
Both Single Comb and Rose Comb Anconas are available for sale in Australia however the rose combed are less common.
You can search online for specialist breeders. You will often find them advertising in poultry Facebook groups. You may also be able to buy Anconas from local rural supply stores or bird auctions.
Price
Prices will vary based on location and demand. An Ancona may be more expensive to purchase than other more common chicken breeds.
Most people will buy backyard hens when they are Point of Lay. This means they are around 4 months old and about to begin laying their first eggs. They can cost around $45 each.
Alternatively, you can buy day old Ancona chicks at around $10 each. You will need to keep them indoors under a heat lamp until they are big enough to go outside with the adult chickens.
You can buy fertilised Ancona eggs at around $50 per dozen. You will need an incubator or broody hen to help hatch the eggs.
Bantam varieties are rarer and usually double the price.
References
https://poultrykeeper.com/chicken-breeds/ancona-chickens/
https://cluckin.net/ancona-chicken-breed-profile.html