Your chickens need to be healthy and happy so that they produce lovely eggs and remain in great shape but keeping chickens doesn't have to be hard work.
The Somerzby Cabana and Run chicken coop comes with an extra long run and meets the highest standards of even the fussiest chickens.
The Cabana and Run is packed full of features that make chickens lives more comfortable and your job of looking after them easier.
The Cabana and Run takes all of the stress out of setting up your new chickens in a really comfortable environment.
And the Cabana and Run chicken house meets all of the council requirements for a healthy chicken house including height restrictions.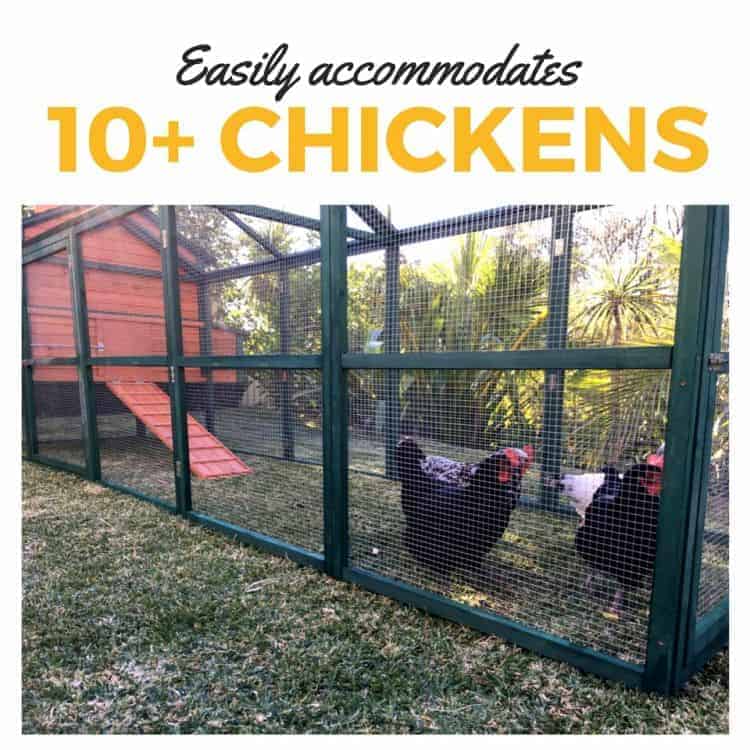 How Big Should a Well Designed Chicken Coop Be?
Chickens are usually quite comfortable nesting in reasonably close quarters but they still need plenty of space to avoid ruffling a few feathers.
The Cabana and Run can fit up to 10 hens if you let them out daily to roam in your yard.
The coop section measures L1000mm x W1770mm x H1720mm (including the nesting boxes on the sides). That means that the Somerzby Cabana coop is large enough to easily accommodate 10 chickens overnight. 10 is the limit for urban areas under most NSW council jurisdictions.
The run section measures L2700mm x W950mm x H1270mm, adding a large area for your hens to freely roam around engaging in normal chicken scratching and foraging behaviours while preventing them from flying into the neighbours and keeping them safe from mice, snakes and cats.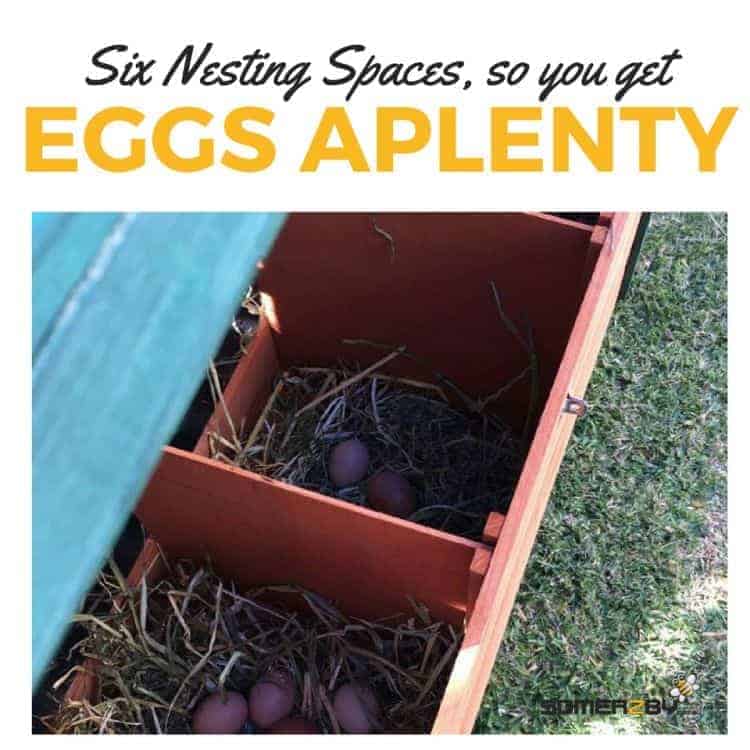 Does It Have Separate Nesting Boxes?
The Somerzby Cabana and Run has two nest boxes with six nesting spaces. They are placed well above the ground keeping your hens free from the harmful effects of damp ground.
The height of the nesting boxes and the convenient lid providing convenient access from outside the coop makes it so easy to gather their daily egg deliveries.
Three perches means there are plenty of perching areas for your 10 hens to get comfortable at night time.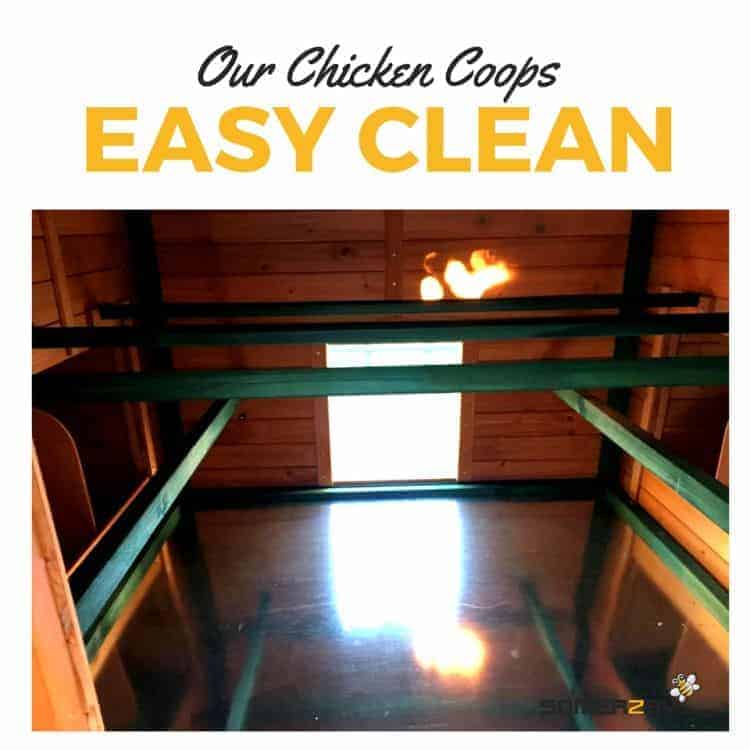 Is It Easy To Clean?
This is probably the chicken lover's least favoured job but the Cabana and Run has some features that means even your kids will be happy to help with cleaning the coop.
You don't even have to go in the coop for basic cleaning jobs.
Pull out metal tray for simple no-fuss removal of chicken poo and to replacing bedding
One large access doors on the run allows easy access
External access to nesting boxes
Large access door at a convenient height gives access to the coop
We recommend you line the metal tray with one layer of newspaper then a second layer of absorbent bedding material (such as wood shavings or shredded paper). This will absorb their mess and help your metal tray to last a long time.
Will It Keep My Chickens Dry?
The Cabana and Run is designed for Australian conditions to keep your chickens dry and warm in winter and cool in summer.
The additional mesh-covered ventilation windows with sliding covers allow extra ventilation in the warmer months or can be closed to prevent windblown rain and cold draughts from entering during the wetter periods. 
The coop is placed well above the ground keeping your hens away from cold damp ground conditions.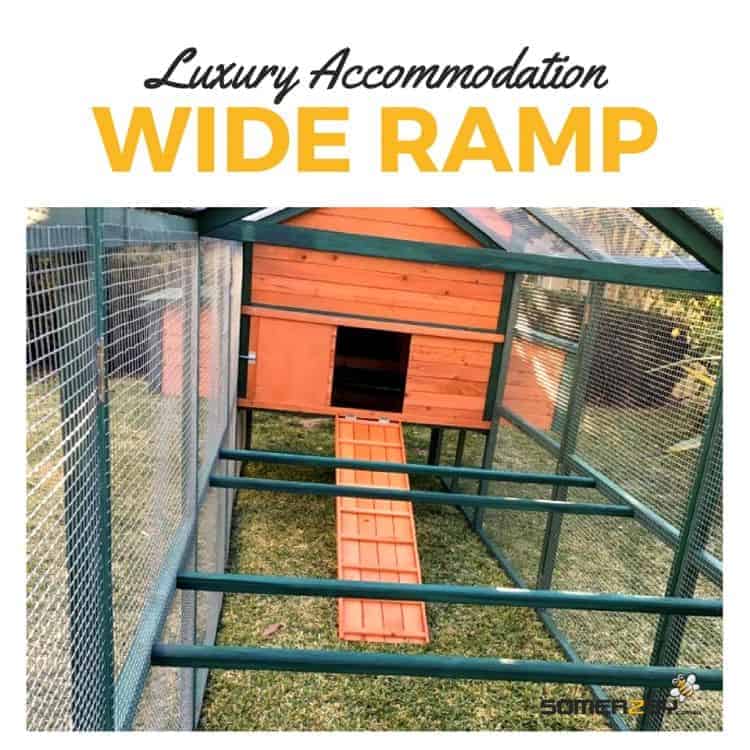 What Other Great Features Does It Have?
The Cabana and Run extra large chicken enclosure is packed with other great features as well including:
Wide ramp
External metal rod to open and shut door to the house
Mesh-covered ventilation windows with sliding covers
What's It Made Of?
The Cabana and Run is made from rot resistant Chinese Fir timber coated in a non-toxic water-based stain.
Fir is well-known for its strength and resilience. The non-toxic stain helps protect the wood yet is still safe for your pets to be in or children to handle.
Galvanised 11mm x 11mm wire mesh keeps your chooks safe from predators including cats, mice, rats and snakes.
Solid construction gives the Cabana and Run real lasting strength.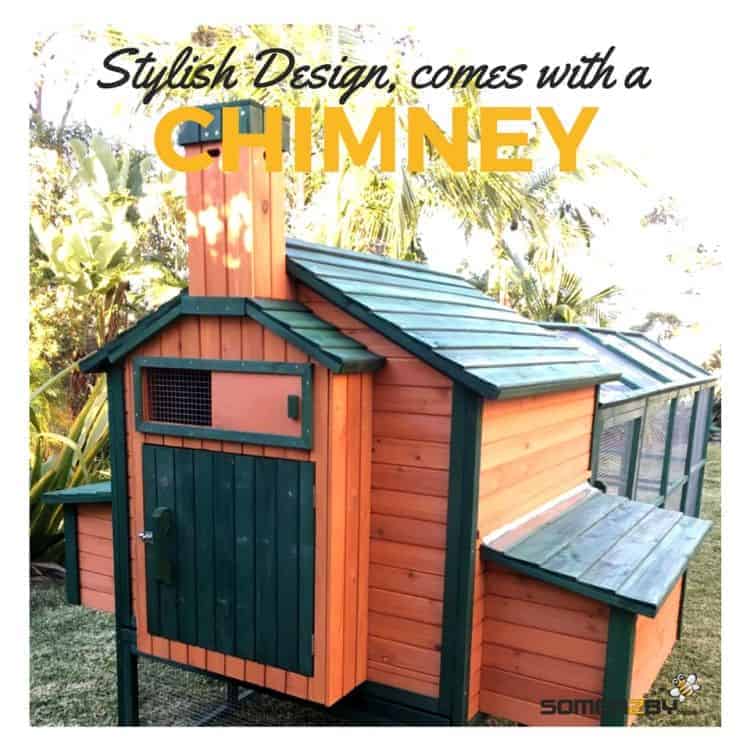 Couldn't I Make My Own?
Yes, you could but it will be more expensive and time-consuming than buying a Somerzby extra large chicken coop and run.
It comes as a flat pack in three easily manageable cartons and comes with everything you need for fast straightforward assembly – it couldn't be easier.
All the materials including hinges and screws are provided along with clear instructions for assembly.
Maintenance is minimal – perhaps the occasional drop of oil on the hinges is about it.
The Somerzby extra large Cabana chicken coop and run makes keeping and nurturing your home range chooks so easy. Give yourself and your chickens a real break with the Cabana.